Starting a New Hobby at RIHGA Royal Hotel Osaka
This article was originally published in the May/June 2009 issue of The ROYAL.
All products, services, and prices are subject to change.
A new season has come. Do you ever feel like starting something new or something that you have always been interested in? The RIHGA Royal Hotel Osaka offers many courses that will stimulate your intellectual curiosity. Why don't you enjoy a new hobby in the hotel's calming atmosphere?
Lesson1
Make your own original tableware.
 Have you had an experience where you saw an impressive decorative tableware at somebody's home, and they told you that they made it themselves?
 Handmade clay flatware or delicate and gorgeous wine glass; handmade tableware welcomes guests with warmth.
 At RIHGA Royal Hotel Osaka's "Japanese Restaurant & Bar Hoshizora," the head chef Hirano sometimes serves with his handmade plates, which are made in a kiln at RIHGA Royal Hotel Osaka. Using this kiln, our pottery classes offer opportunities to learn under the guidance of ceramic artists.
 In addition to pottery, "Ecole de Royal" offers a wide variety of courses, including Swiss Mégroz style Glasritzen and sandblasting. In these classes, you can create one-of-a-kind tableware. Imagine the happiness of welcoming guests with your handmade ceramics and glassware.
Play with Clay
~Pottery~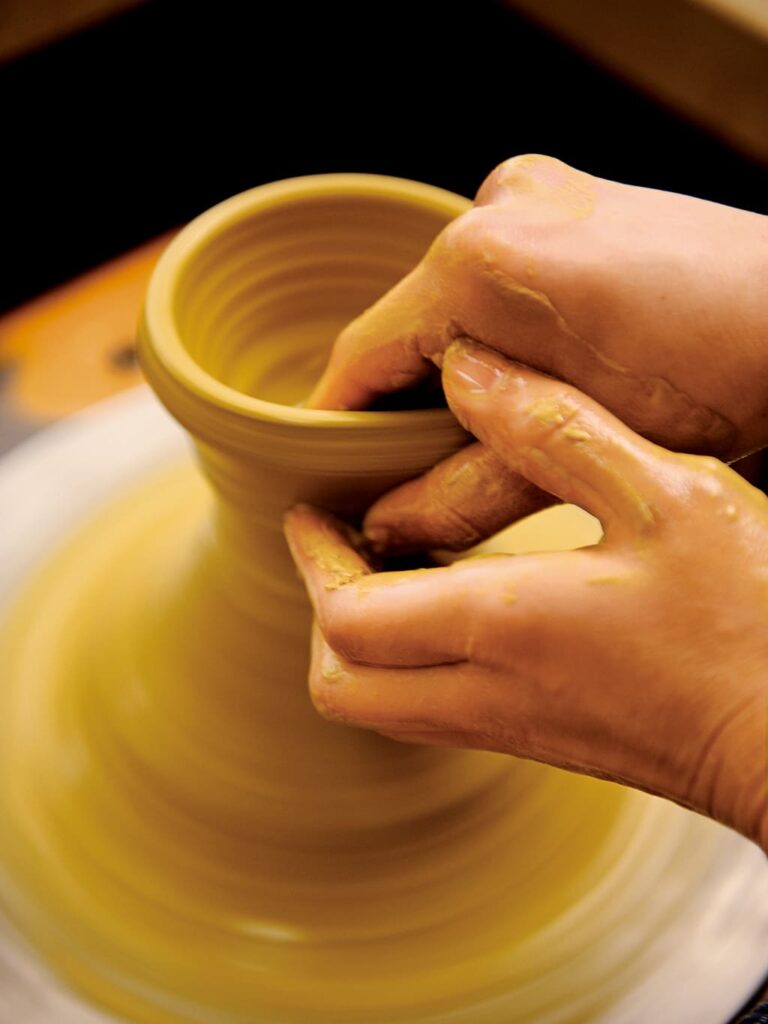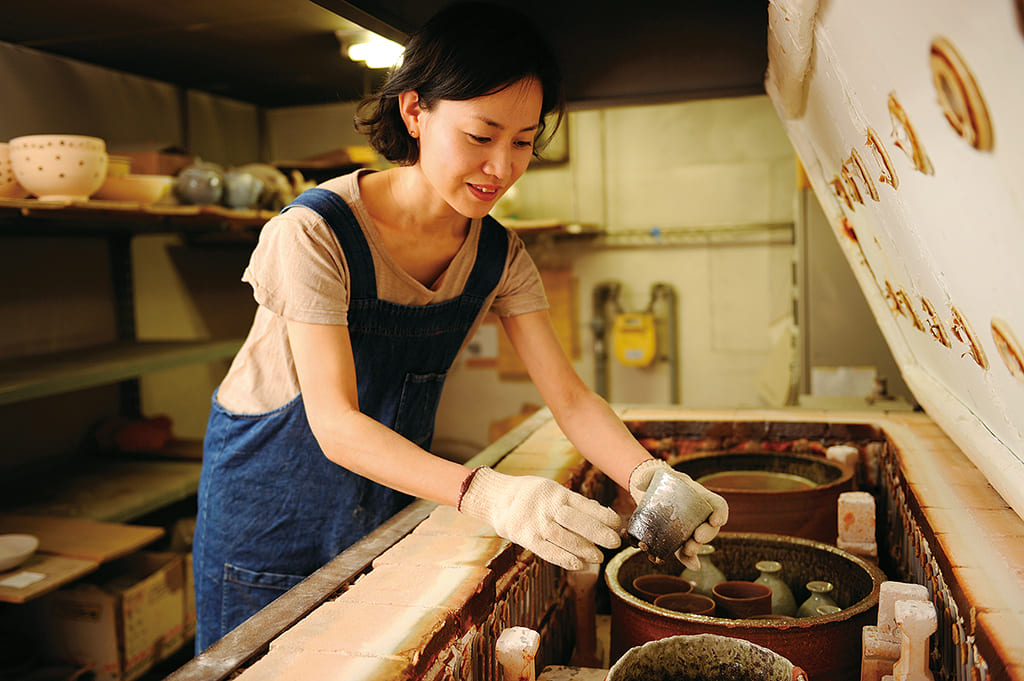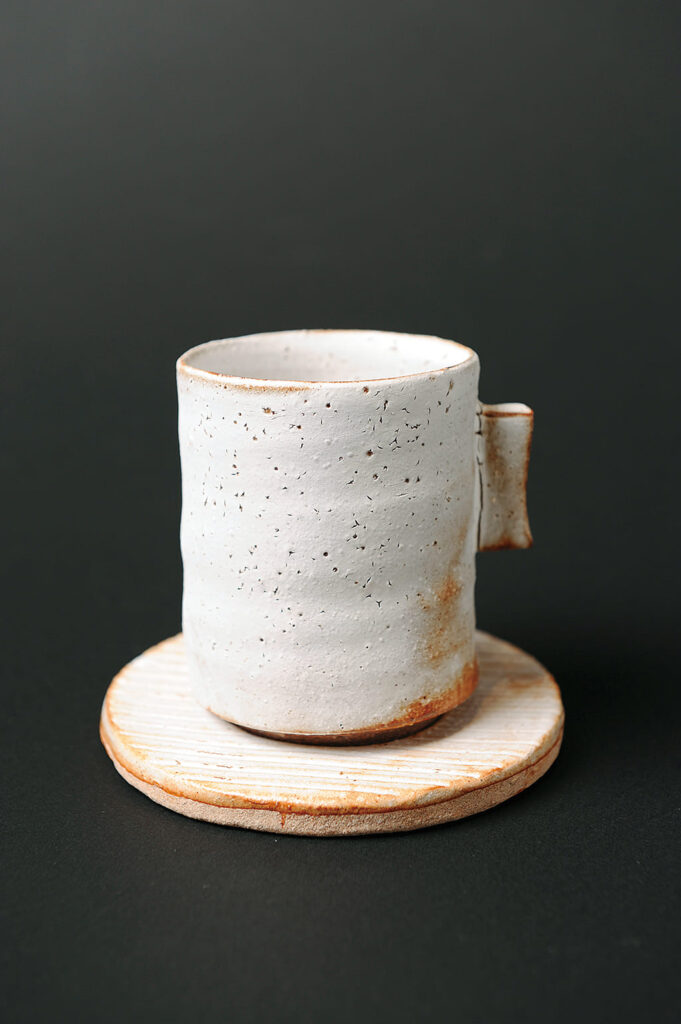 Hand kneading, slab forming, wheeling, and base making. There are various techniques in pottery. In this class, participants will learn the fundamentals of pottery, from the first kneading to the firing. After that, participants can work on their projects and experience the joy of creation. The class will be led by Hagiwara Teruyuki and Kameoka Tsuneko, Tamba-style potters Ichino Toyoharu and Hata Ken, and Ide Teruko, who is acclaimed by Nitten.
Class Schedule:
Every Monday (4 classes/month) 13:00~16:00
Every Wednesday (4 classes/month) 13:00~16:00
Every Thursday (4 classes/month) 13:00~16:00 
Every Saturday (4 classes/month) 13:00~16:00 

Cost: ¥21,000
Audit available
Free trial class available
Color Brightly
~Sandblasting~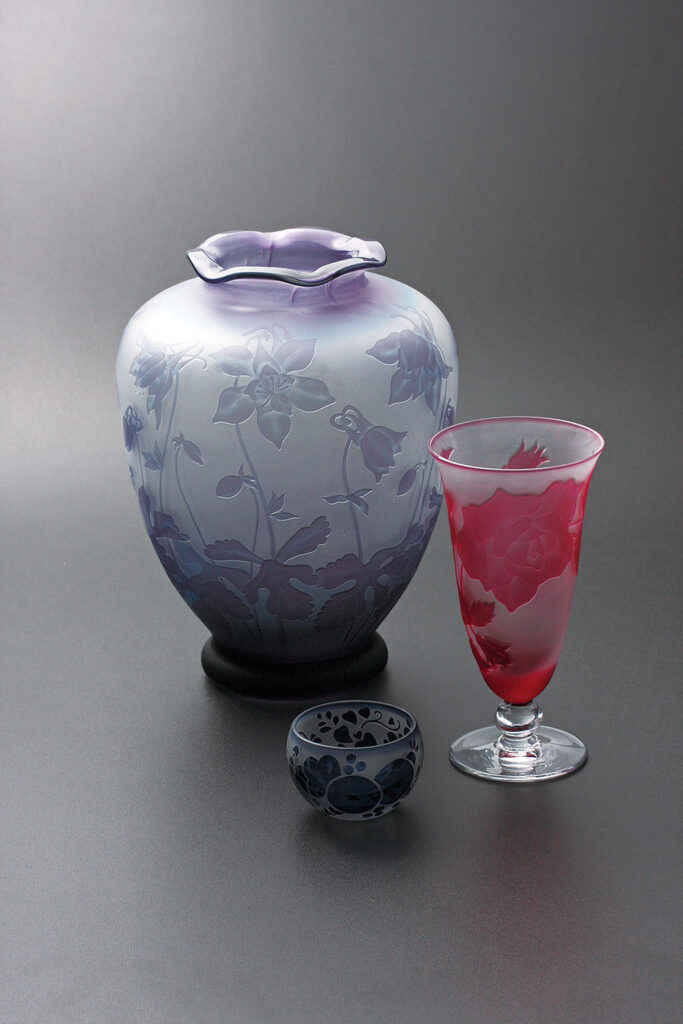 Glass artisan Yamada Eiko will teach you the techniques introduced by the leading sandblasting artist "Takenaka Ko." Participants will create crystal pendants, single-flower vases, wine glasses, and other beautiful works of art using the highly sophisticated technique of covering the surface of the glass with a thin layer of colored glass.
Class Schedule: Second Fridays 10:30~15:30 (including 1 hour lunch break)
Cost: ¥12,600
Audit available
Free trial class available
Carve Delicately
~Swiss Mégroz Style Glasritzen~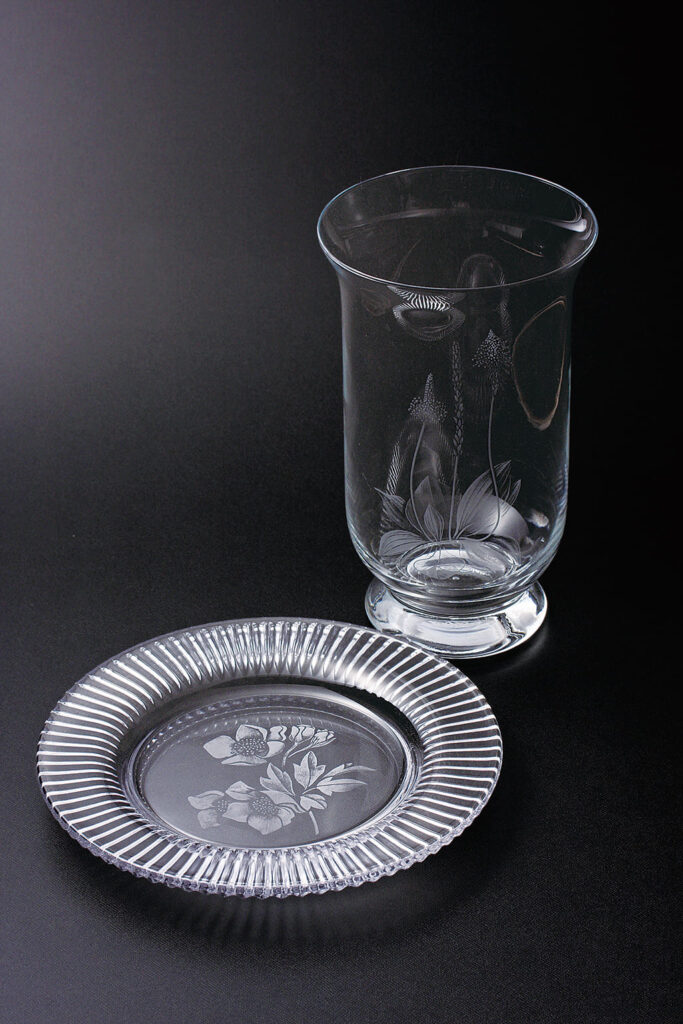 Glasritzen is a Swiss word for glass art known as "Diamondpoint." In this class, you will engrave delicate patterns and letters on glass using a needle with diamond particles. The course is taught by Takeda Yoshiko of Mégroz Japan, who introduced the art to Japan from Switzerland. Other instructors include Nishigaki Takako and Hamada Chisa, who will guide you through the curriculum.
Class Schedule: Third Fridays 10:00~12:00
Cost: ¥6,300
Audit available
Lesson2
Focus on your inner self
 Ishii Miyami, the instructor of "Miyami's relaxing calligraphy class," uses ink, pigments, and paints in her creation. Through calligraphy, she aims to "feel the changing of the seasons and convey feelings by playing with words" rather than just writing characters. The class offers an opportunity to experience "fun calligraphy" without grading or judging your writing. Ishii says, "I want those who have hated calligraphy classes to experience the joy of writing."
 Masuda Hojun of "Noh mask making for beginners" is a Noh mask maker with a 40-year career. Making one Noh mask takes 100 hours. Each session lasts three hours for this course, so completing a mask takes almost a year. It is one of the long-lasting courses at Ecole de Royal, which has been offered for more than 20 years now. "Even if you have never held an engraving knife, you will be fine. Sometimes it is better to have little or no knowledge because you will absorb all the skills and knowledge easier that way," says Masuda.
 In these classes, you will face your inner self while putting all your heart into your craft. Please enjoy such a special time.
Color Your Life with Calligraphy
~Miyami's Relaxing Calligraphy Class~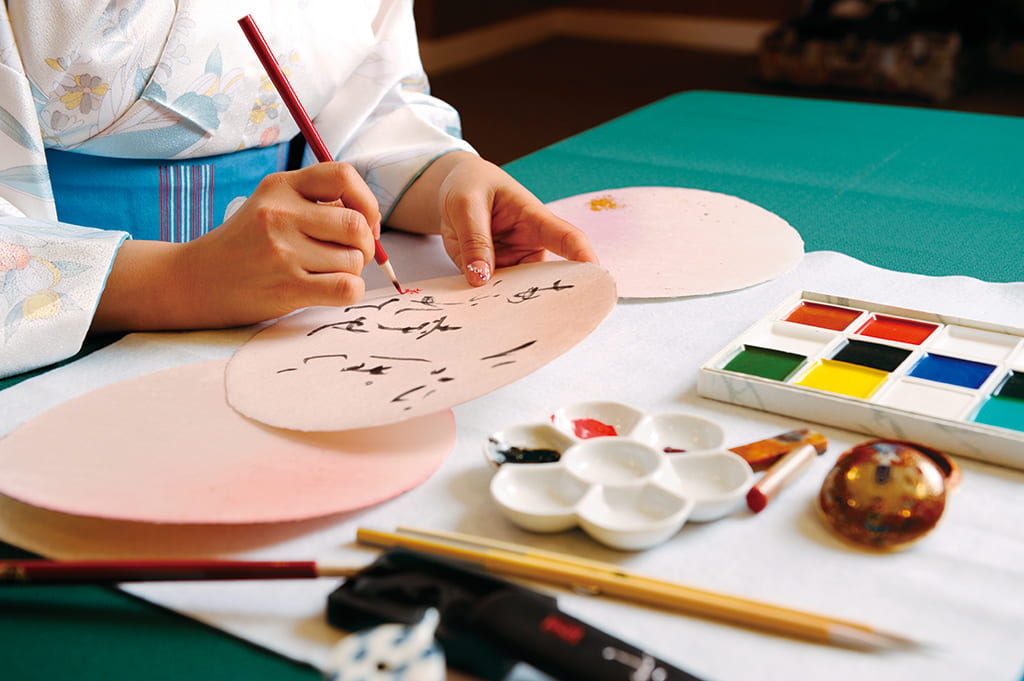 There are many beautiful seasonal words in Japanese. Under the guidance of Ishii Miyami, who once showed off her beautiful writing in a movie, participants will write heartwarming and stylish characters with a brush. The letters will look even more gorgeous when written on various items that color our daily lives. They become wonderful gifts or decorations. You will also have fun using everyday objects like makeup tools to calligraph in this unique class.
Class Schedule: Fourth Fridays 13:30~15:30
Cost: ¥4,200
Audit available
Free trial class available
Carve a Noh Mask
~Noh Mask Making for Beginners~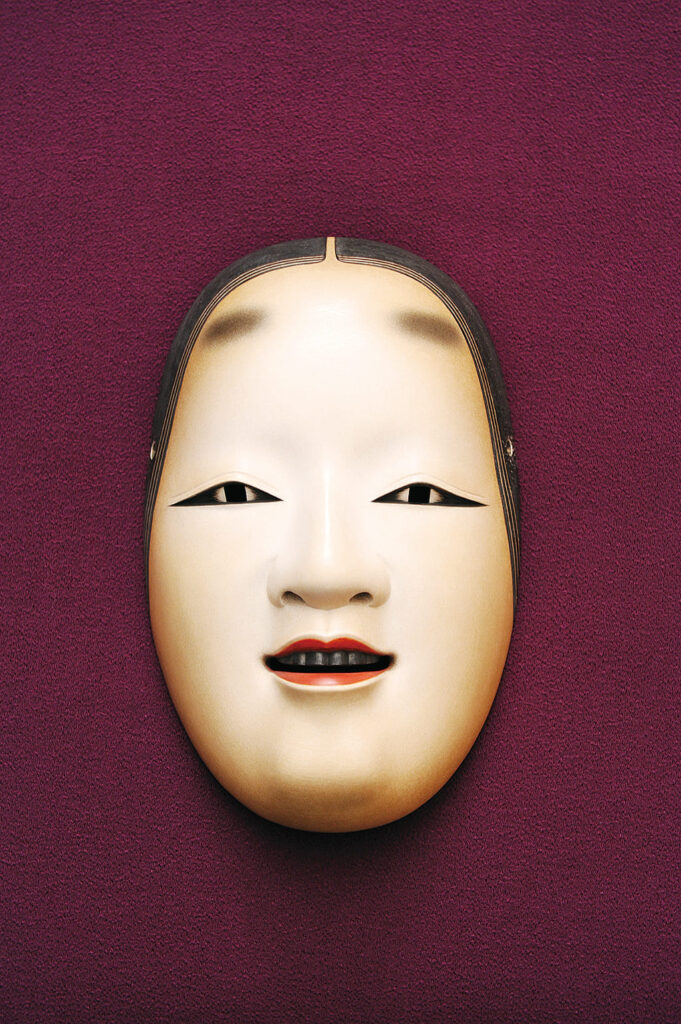 A Noh mask is carved out of a piece of cypress wood with all one's heart and soul. It takes 50 hours for Carving and another 50 for coloring. The first step of the coloring process is to apply the base coat and then the top coat. The photo of Masuda working shows the mask after about 12 hours (it will take 20 hours for participants). It is blissful to see a mask enliven by your meticulous work. Participants' Noh masks will be exhibited at the RIHGA Royal Hotel Osaka every July.
Class Schedule: First, second, and third Thursdays 13:00~16:00
Cost: ¥17,850
Audit available
Lesson3
Enrich your mind with Japanese traditions
 In a historical TV series, "Atsuhime," released in 2008, there were many scenes of people enjoying incense. However, not many people have actually experienced "Kodo."
 "Kodo" is a traditional Japanese practice in which you enjoy incense inspired by the changing of the seasons, Waka poems, and seasonal events. In Kodo, you can appreciate the world of classical literature expressed through fragrance.
 In the "Enjoy Kodo" class, under the supervision of Higashi Gyoka, participants will guess ancient and precious fragrant wood scents.
 In "Tea Ceremony for the Beginners," participants will learn Japanese-style room etiquette in the RIHGA Royal Hotel Osaka's tea ceremony room. The sophisticated gestures you will acquire in the class will be useful for your daily life. By learning the meaning of each gesture, you will also learn new sides of the culture of Japanese-style rooms.
 Relax your shoulders and enjoy the tea served by Fuji Soetsu; you will get used to the seemingly intimidating traditional Japanese atmosphere in no time.
Listen to Scents
~Enjoy Kodo~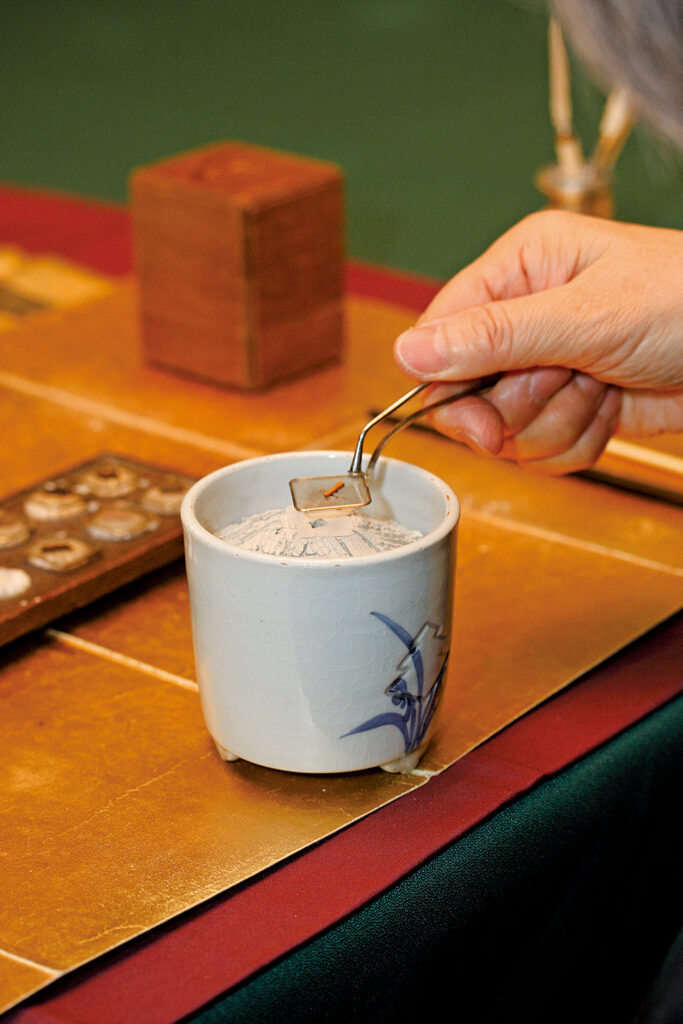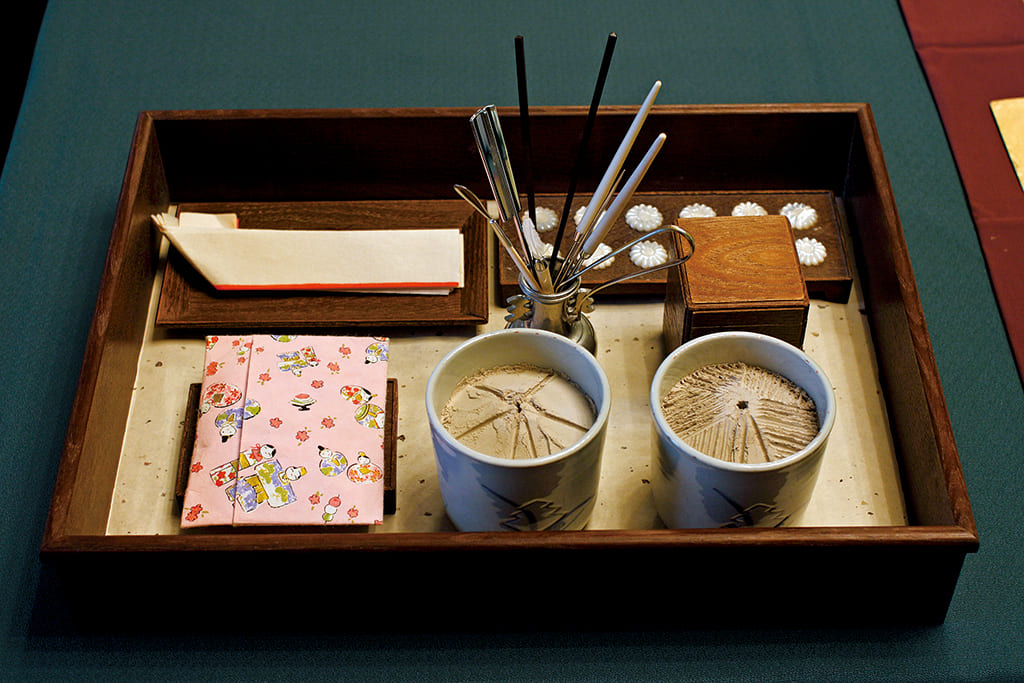 Japan has four beautiful seasons, which is why Kodo was born and developed. In the quietness of the room, heavenly scents will relax your mind. In the class, you will playfully enjoy the art of Kodo; for example, you will guess the scents of "Rikkoku," which is famous for its one of the scents, "Kyara." The instructor, Higashi Gyoka, instructed the creators of the TV drama "Atsuhime," and in April 2008, at the request of Kagoshima NHK, the TV network, she held an incense class.
Class Schedule: Third Fridays 10:30~12:30
Cost:
First year ¥6,825
After the second year ¥7,350
*All prices include the cost of fragrant wood.
Free trial class available
Prepare and Enjoy Green Tea
~Tea ceremony for Beginners~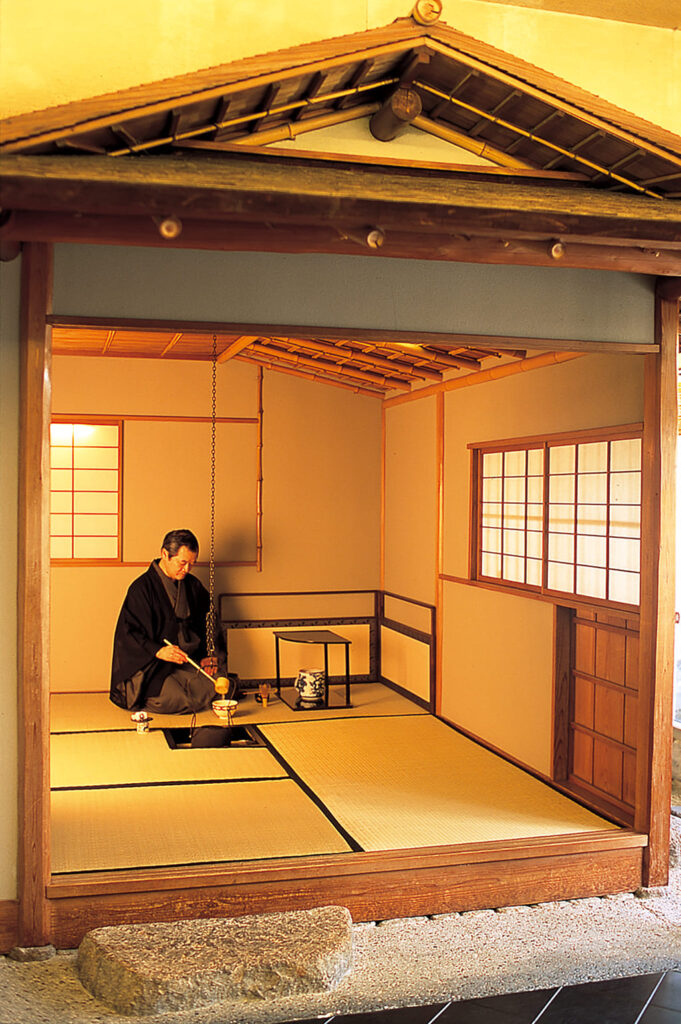 In the tea ceremony room at the RIHGA Royal Hotel Osaka, you can get private lessons from Fujii Soetsu, a Urasenke Tea Ceremony school professor. This is a tea ceremony course for those who have experienced tea ceremonies in the past and for those who are too nervous to try. The class will be arranged according to your level (excluding the charcoal procedure), and you will learn how to prepare green tea as well as the etiquette, so you will be able to attend tea ceremonies in the future.
Class Schedule: Second Saturdays 11:00~15:00(30mins/class)
Cost: ¥8,400
By appointment only.
Please contact us for availability
Free trial class available
Audit available
Lesson4
Color your world with paint and glass
 Katsura Yonedanji once told us in his essay series for "The ROYAL" (RIHGA Royal Hotel Group's PR brochure) that he used to come to Nakanoshima for sketching sessions as a child. In the Nakanoshima area, where the RIHGA Royal Hotel Osaka is located, you can see the beautiful scenery of water and greenery everywhere. Perhaps that is why you often see people enjoying sketching on weekends.
 Ecole de Royal offers painting classes for those who want to improve their painting skills. You can choose from Japanese-style paintings, Western-style paintings, and oil paintings for beginners.
 The stained-glass class is also popular. This private lesson allows you to learn about everything from necessary materials to the process. There is nothing to worry about if this is your first time trying because you will start by practicing glass cutting. There is no set curriculum, and participants can make what they want to make while consulting with the instructor, Watanabe Kazuhiro. Many of Ecole de Royal's courses allow auditing, and the stained-glass class even offers a free trial class, so please feel free to try it first.
Add Color to Your Life
~Gouache Painting~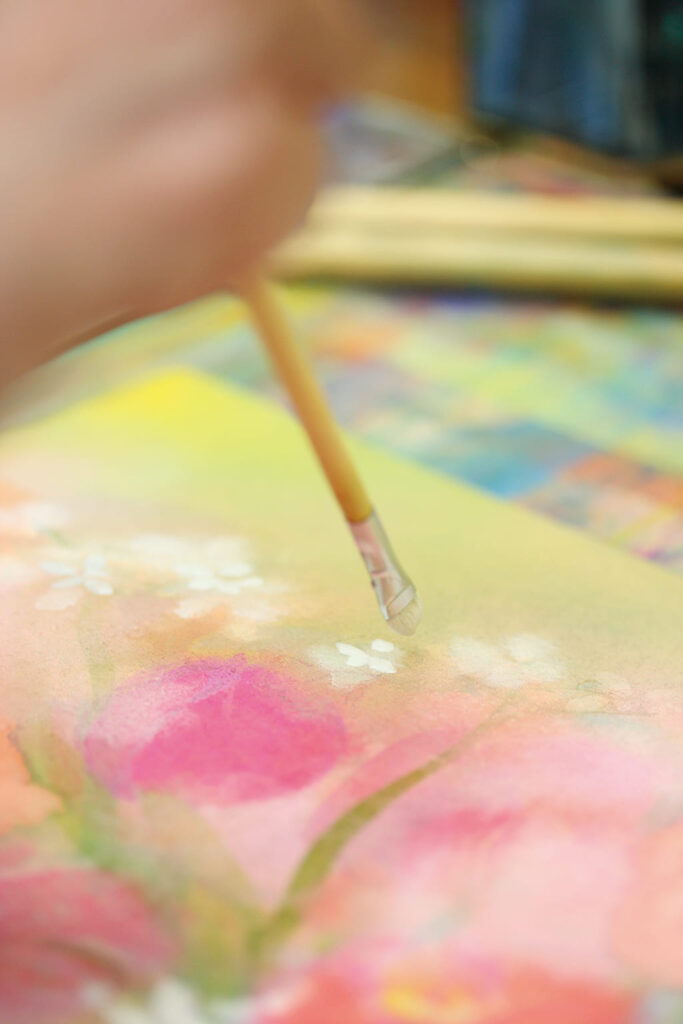 "Gouache" is a beautiful watercolor painting using opaque paint to create a unique shimmering pictures. The instructor, Funamoto Seiji, will teach you his unique gouache painting technique, such as layering and blotting to create unique nuances by layering colors. Even beginners will be able to create their own beautiful paintings under the careful guidance of him.
Class Schedule:
A. First, second, and third Mondays 13:30~16:30 (3 classes/month)
B. First and third Mondays 10:30~12:30 (5 classes/term (20 classes/year))
C. Second and fourth Mondays 10:30~12:30 (5 classes/term (20 classes/year))
Cost: A. ¥18,900 B, C.¥10,500
Audit available
~Stained Glass~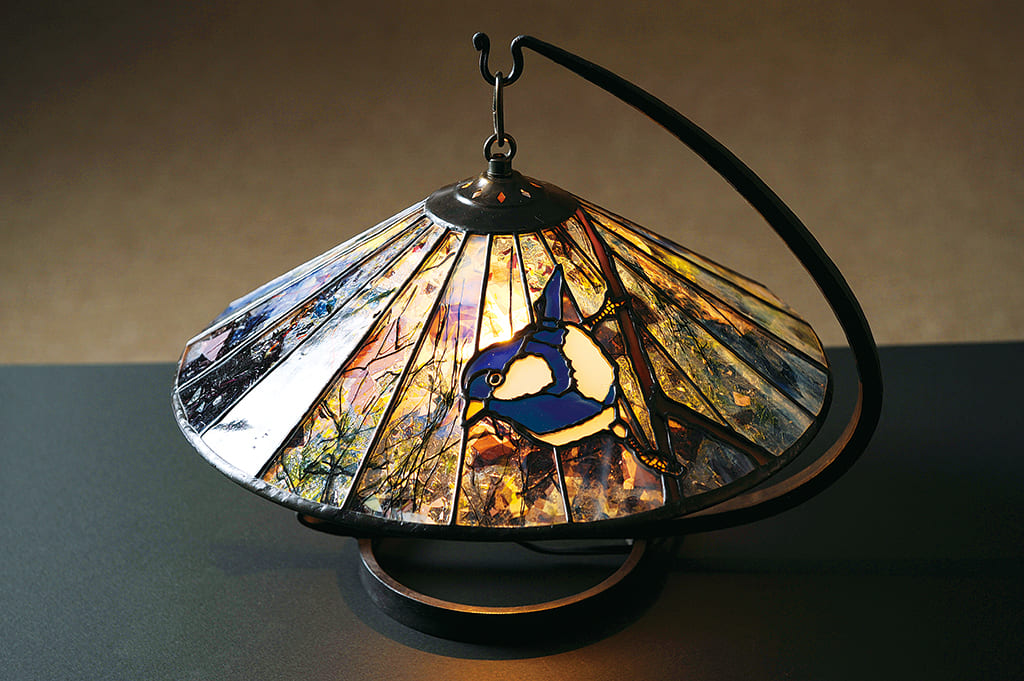 Stained glass artist Watanabe Kazuhiro offers one-on-one lessons designed just for you. In the intermediate course, students will create flat panels using the Came method, which incorporates glass into the lead came. Enjoy working with glass as it shows different beauty depending on how the light hits.
Class Schedule: Second and fourth Wednesdays 13:00~16:00
Cost: ¥9,450
Free trial class available
Audit available
Lesson5
Read Fortune
~The Four Pillars of Destiny~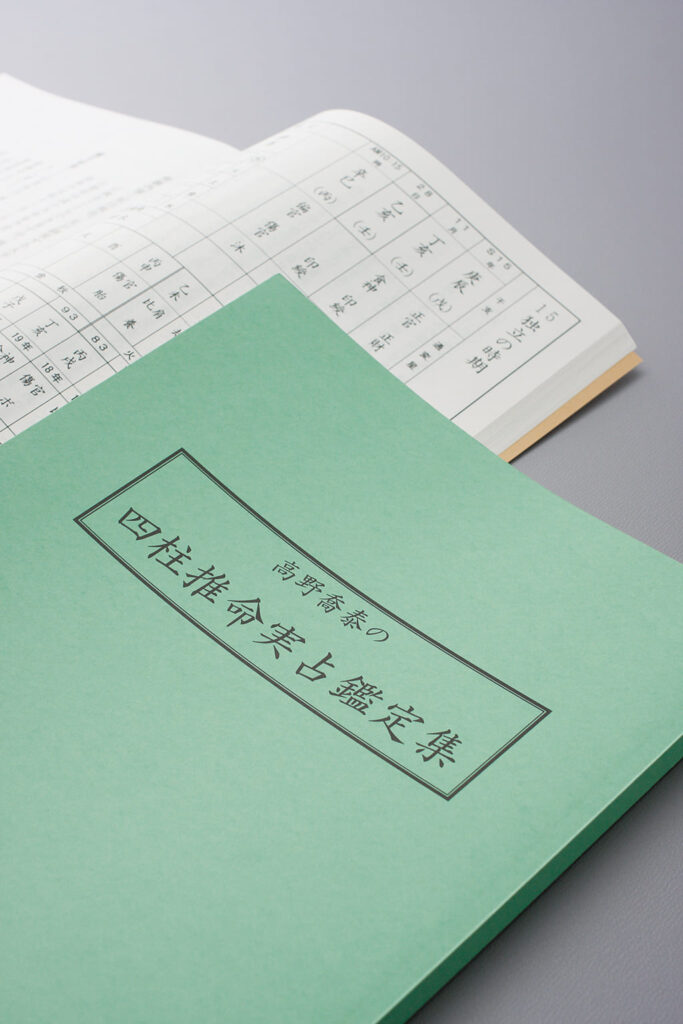 The Four Pillars of Destiny is a divination technique that originated in ancient China. It determines one's fortune based on one's date of birth (and time) and is known as the king of fortune-telling due to its high accuracy. In each class, Takano Kyotai, an advisor at the NPO Kobe International Fortune-Telling Association, and Mineyama Seishu, the vice president of the association, will give a lecture by giving actual fortune-telling. This course is very popular because you will be able to use your knowledge to make everyday life more enjoyable.
Class Schedule: Third Mondays 13:30~15:00
Cost: ¥6,300
Perform Music
~Ukelele~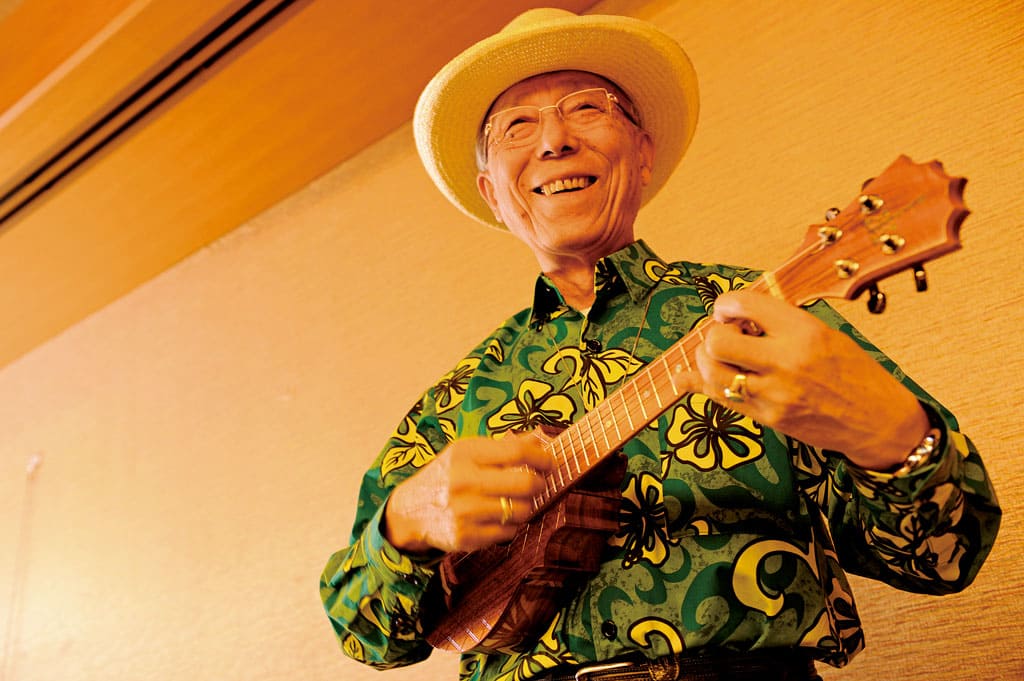 Dressed in a lovely aloha shirt, Kinugawa Yuzo, the president of Hawaiian School (a former producer at Victor), will be teaching the ukulele class. If you are interested in learning how to play an instrument, why don't you try playing some good Hawaiian melodies? Pleasant ukulele sounds and Kinugawa's fun stories will surely soothe your soul. After six months of practice, you will be able to play one song.
Class Schedule: Second and fourth Tuesdays 13:30~15:30
Cost: ¥10,500
Free trial class available
Audit available
Sing
~Jazz and Pop~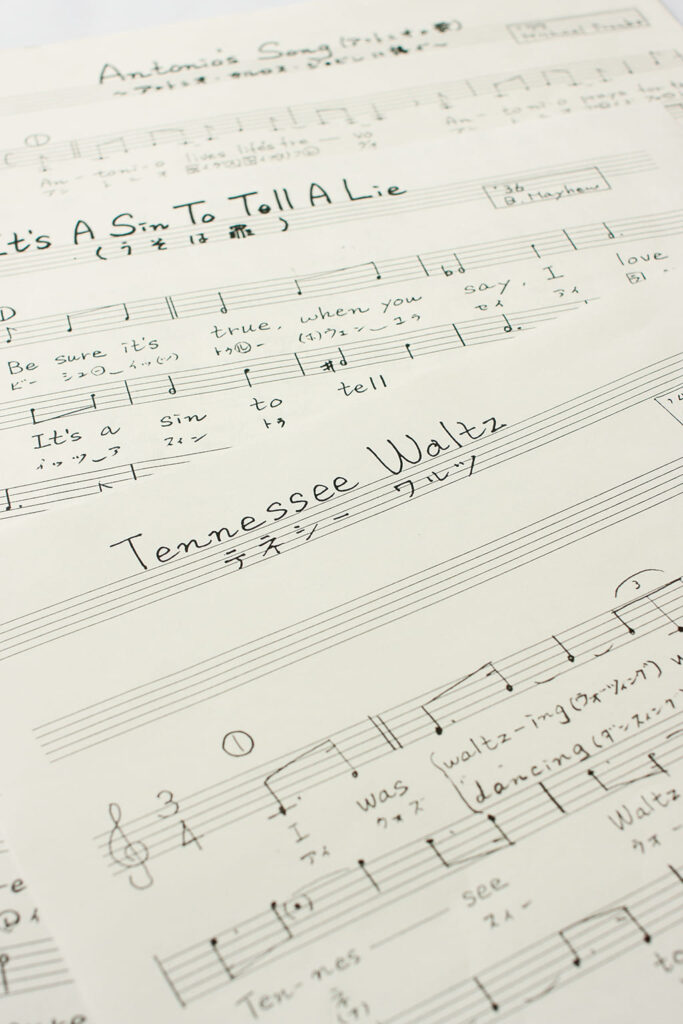 Sogawa Hisako is a singer/pianist. In her class, she will sing jazz and pop songs in English. Starting with vocalization, basic melody, and rhythm, you will eventually learn how to groove. Beginners and those who are not good at English are also welcome.
Class Schedule: Group : First and third Fridays 13:30~15:30
Private: Fridays (2 classes/month) 15:30~19:00
※60mins/month. Sessions available from 30 minutes.
Cost:
Group ¥10,500
Private ¥16,800
Free trial class available
Audit available
~Chanson~
Chansons sing about the lamentations of life. In this class, Yui Kazuyo, a chanson singer who used to act at the Takarazuka Revue, will provide detailed instruction so that even beginners can enjoy singing chansons. Singing along with the piano played by Mizuno Rei is also a luxurious experience. Once a year, participants sing at a recital.
Class Schedule: Second and fourth Wednesdays 13:30~15:30
Cost: ¥11,550
Free trial class available
Audit available
Art Museum
Welcome to the RIHGA Royal Hotel Art Museum
RIHGA Royal Hotel was born from the skills of master craftsmen of "Mingei" (folk art) from Japan and abroad. In addition to the building itself, the hotel is breathtakingly beautiful, decorated with arts and crafts everywhere. You can even appreciate many masterpieces from the sofa in the main lounge.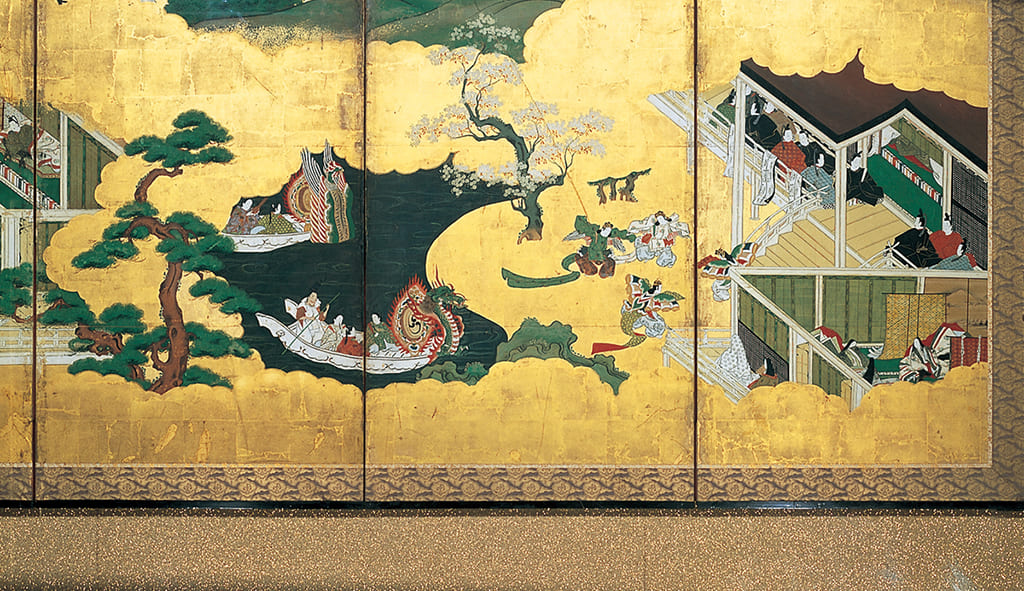 "The Tale of Genji" Unknown artist
Created by a Tosa school painter in the mid-Edo period. It depicts 12 of the 54 chapters of The Tale of Genji.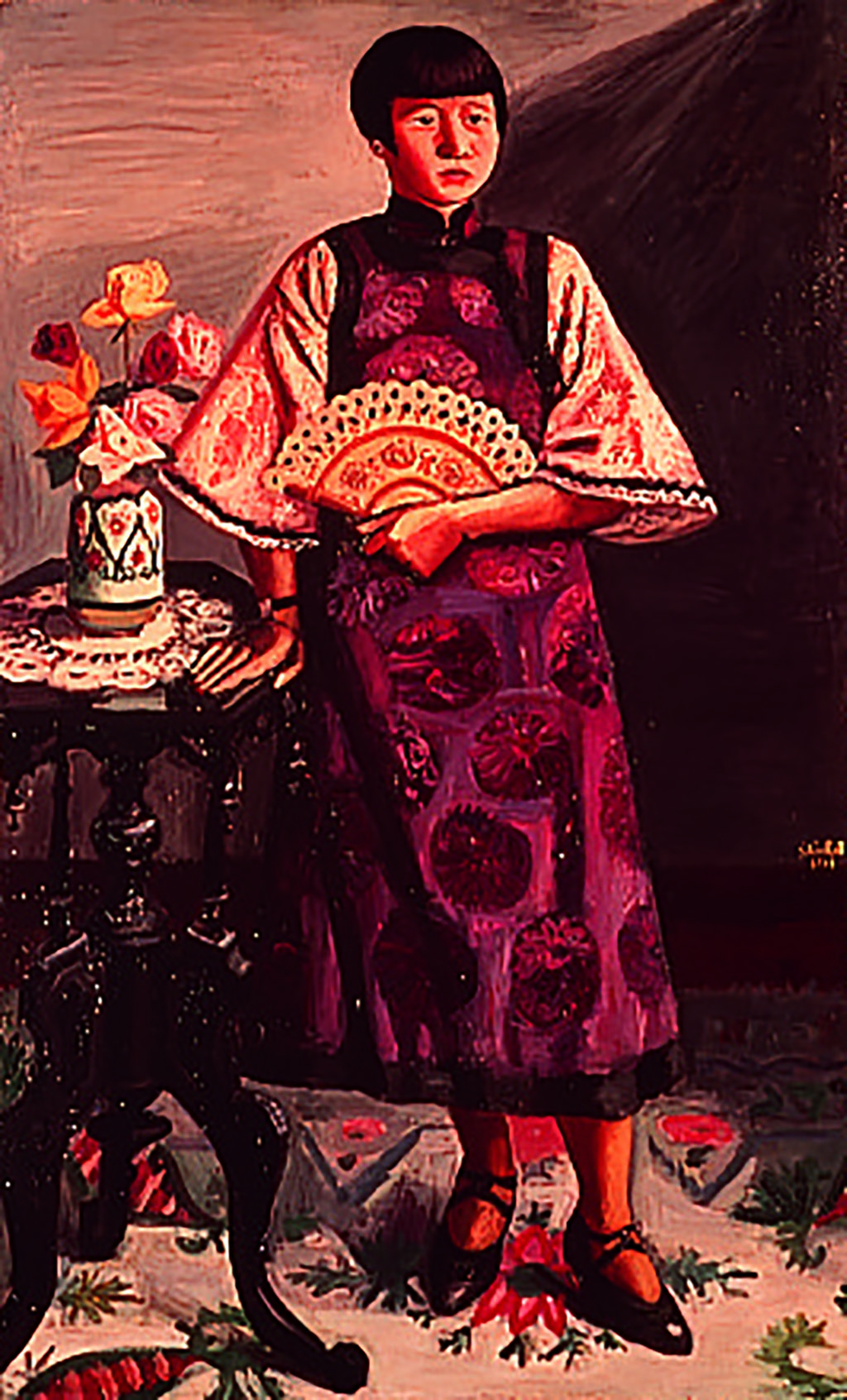 "Portrait of Chou-Chiu-Lan" by Koide Narashige
Depicting a woman in Chinese clothing, this is one of the artist's most significant works after "Silver Folding Fan."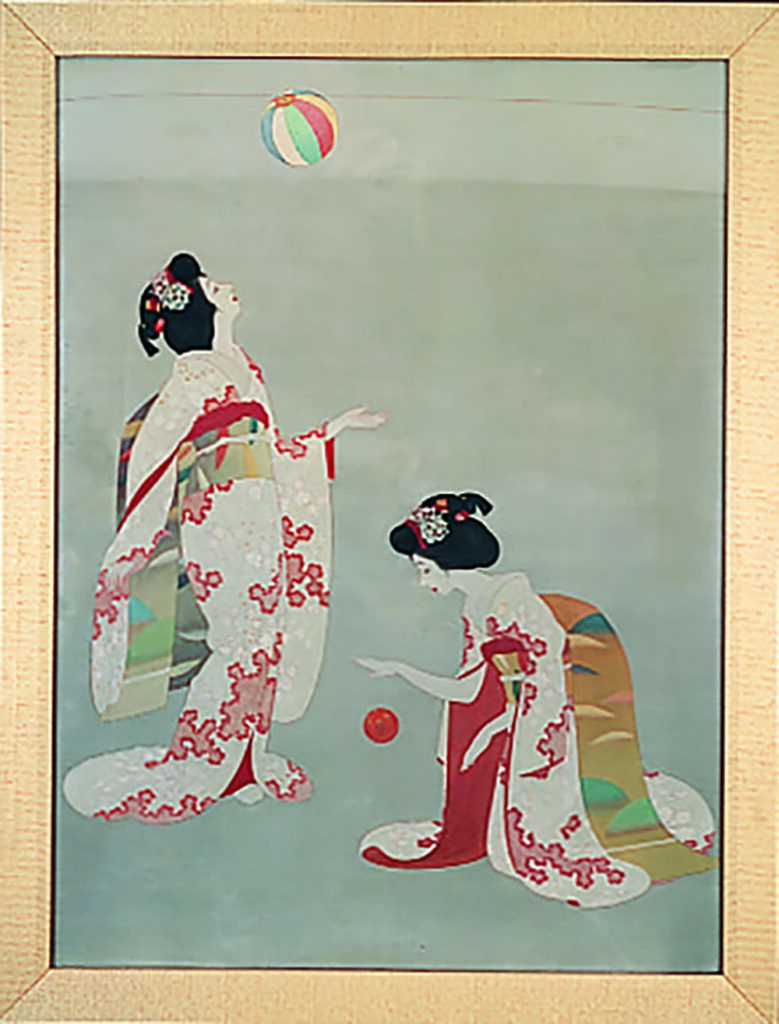 "Playing Maidens" by Okamoto Shinso
This is a masterpiece by Okamoto Shinso, a Japanese painter who died suddenly at the age of 38. It wasn't until 1988 the artist of this painting was identified.
"Gate (London)" by Noguchi Yataro
Noguchi Yataro painted his wife, Kikue, in front of Buckingham Palace during his visit to the UK. This painting won an award at the Mainichi Shimbun's International Art Exhibition Japan.
"Costume" by Koiso Ryohei
This is a glamorous and classic piece from the 1930s depicting a woman in a pink and blue costume.
RIHGA Royal Hotel Osaka 1st Floor
Main Lounge
The main lounge, designed by Yoshida Isoya with the theme of "light, water, and greenery," looks almost like a painting. The Heian-period-style lounge and the Japanese garden are designed to harmonize together to make the visitors feel like they are outdoors in the lounge.
Phone: +81(0) 6-6441-0956
All costs shown are a monthly price. All prices include tax.
This article was originally published in the May/June 2009 issue of The ROYAL. All products, services, and prices are subject to change.