Osaka/ Nakanoshima-Tennoji What is "Living Architecture"?
This article was originally published in the Fall 2018 issue of The ROYAL.
All products, services, and prices are subject to change.
An Excursion from RIHGA Royal Hotel Osaka
"Living architecture" refers to architecture that develops and changes as the city lives on. It includes everything from retro architecture to modern skyscrapers, all of which tells the stories of history, culture, and people's lives.
 Osaka considers the city itself as a "living architecture museum" and holds an event called "The Living Architecture Museum Festival Osaka" (known as "Ikefes Osaka") every fall.
 We will take a little trip with an architect Takaoka Shinichi, who will show us around Osaka and its "living architecture."
(Photography by Nishioka Kiyoshi)
Visiting Notable Architecture from Each Era (Nakanoshima)
 In recent years, people had a growing interest in Osaka's architecture, and the phrase "living architecture" has been used quite a lot. The concept of "living architecture" calls to reconceptualize architecture and not just look at them as cultural properties that should never be altered. It looks at how the architecture in Osaka, no matter how old or young, makes the city vibrant and, therefore, "alive."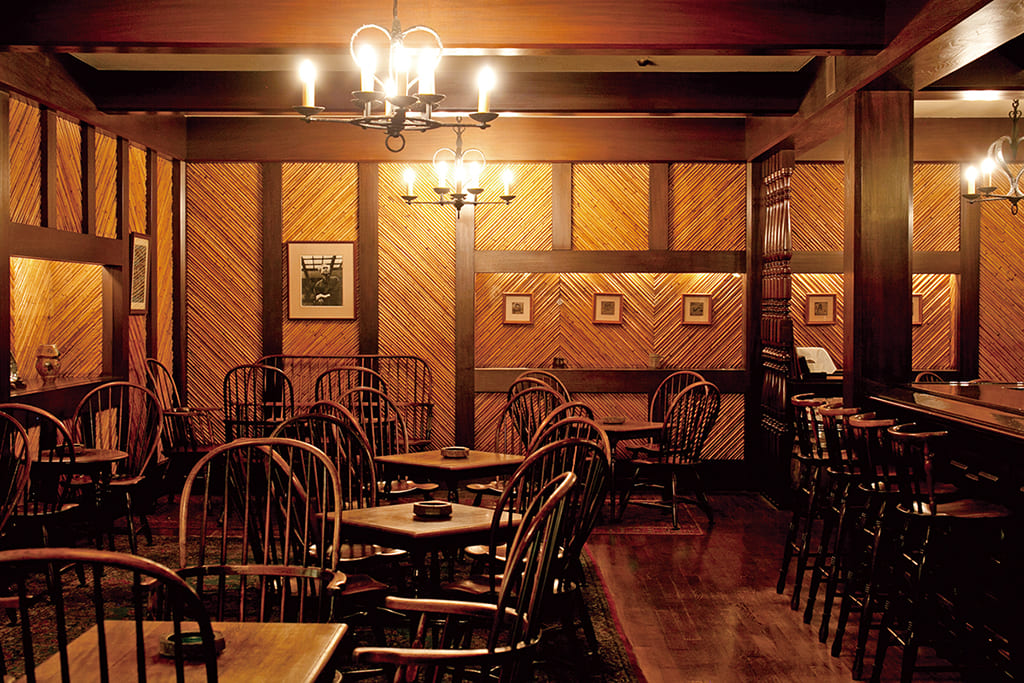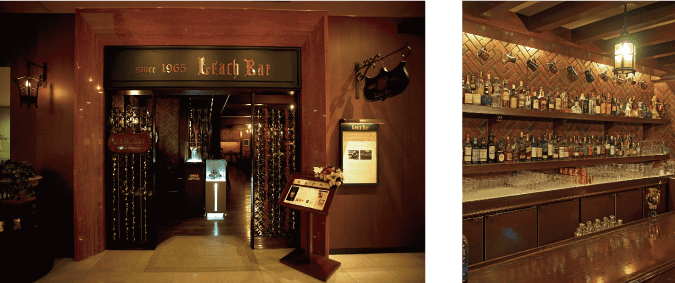 The RIHGA Royal Hotel Osaka is one of Osaka's most important "living architecture" that reminds you of the Showa era. In particular, the "Leach Bar" on the first floor, designed by the British potter Bernard Leach, who greatly influenced the Mingei folk art movement in Japan, is adorned with works by famous artists. It is a historically significant place where Osaka's cultural and business leaders have enjoyed drinks in the past. At the same time, it is a "living architecture" where anyone can go to get a drink.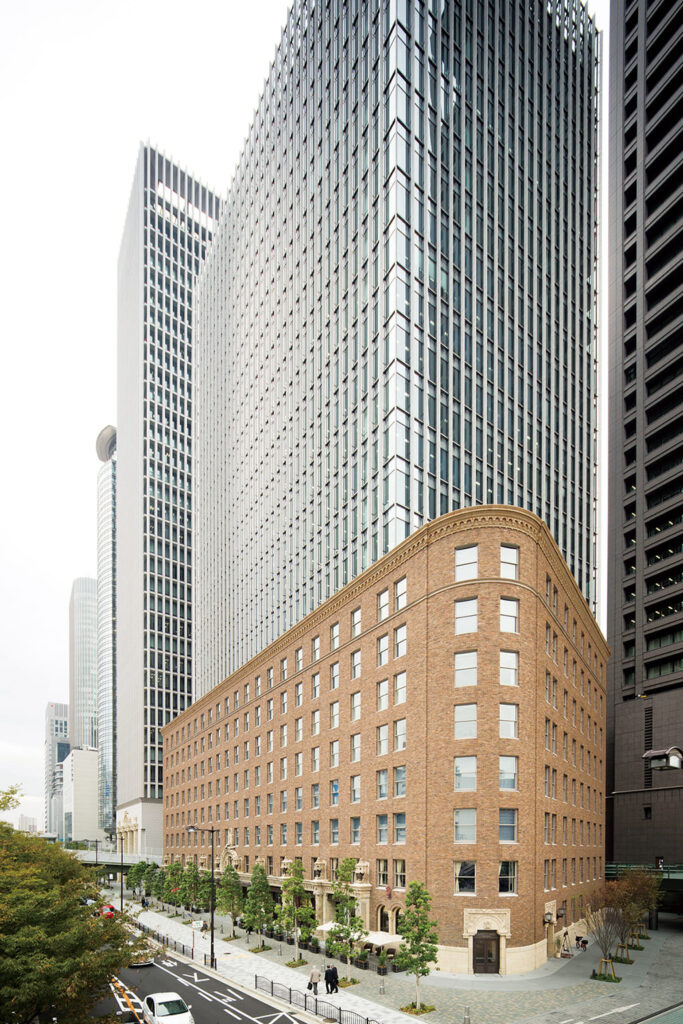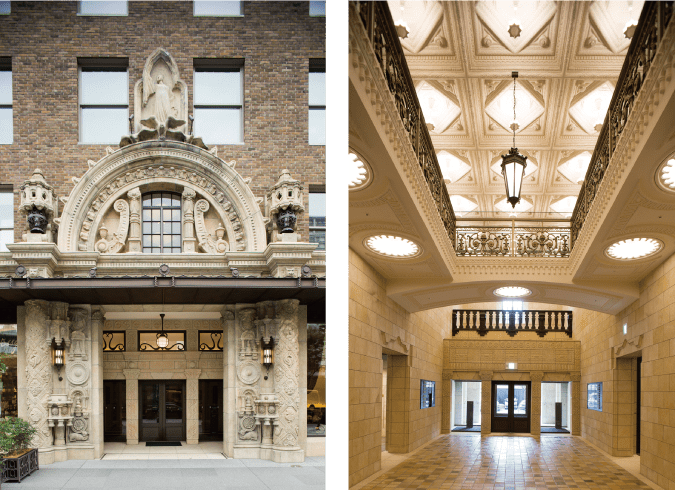 Stepping outside the hotel, you will see a building made of brown bricks facing the Dojima River. This building is "Daibiru Main Building," a skyscraper rebuilt in 2013, and its lower part of the exterior is a restoration of the modern architecture built in 1925 on the same site. What's surprising is that some of the bricks used in the previous Daibiru Building are reused, showing you the long history even though it is a new building.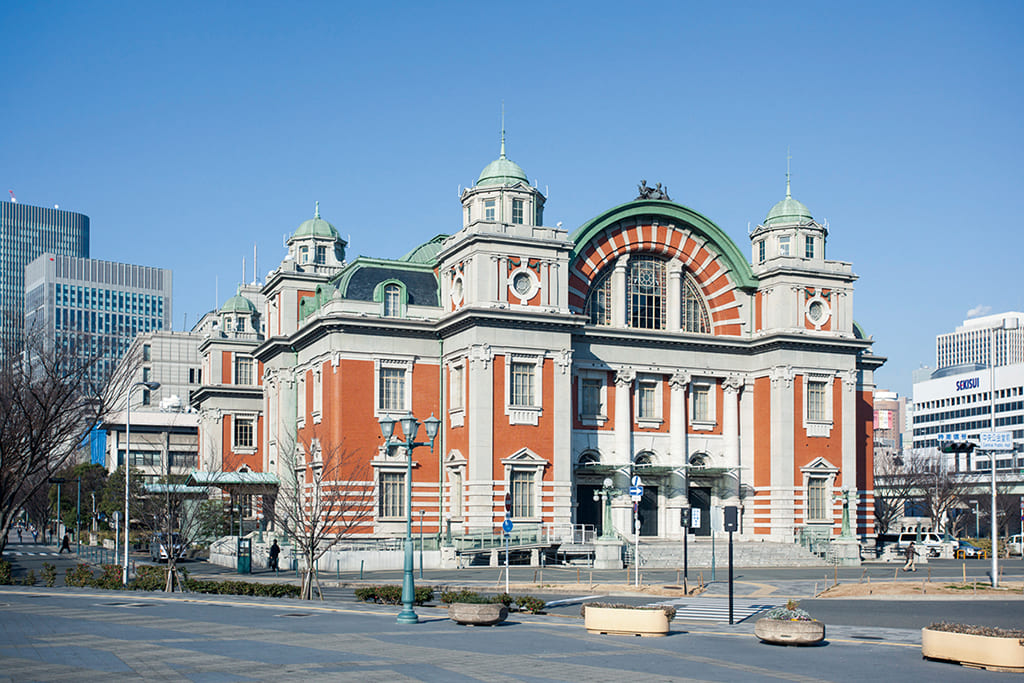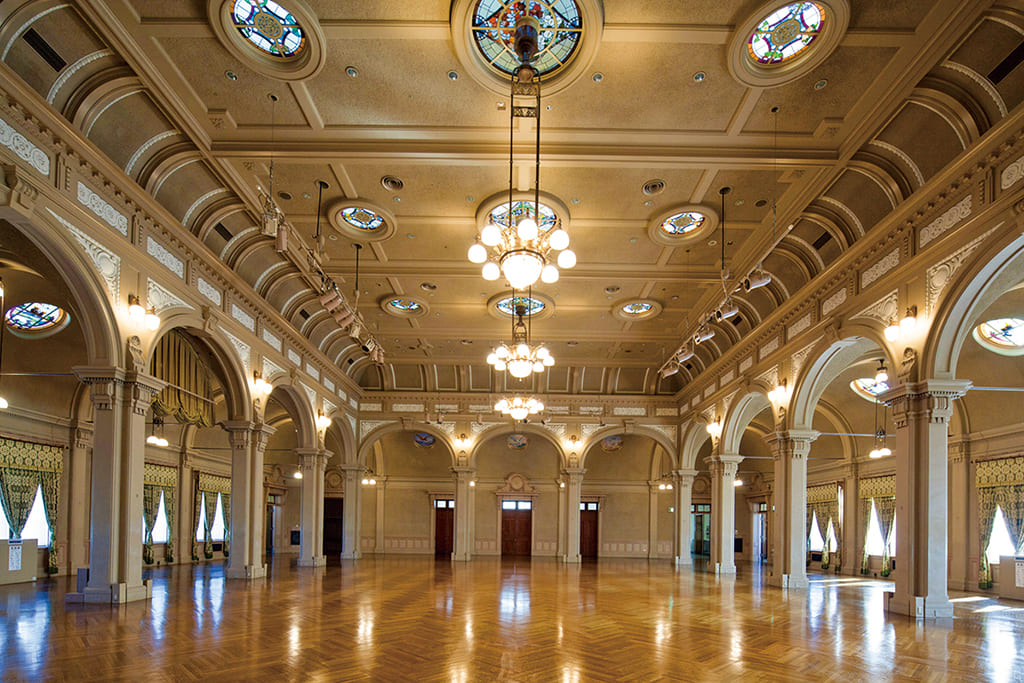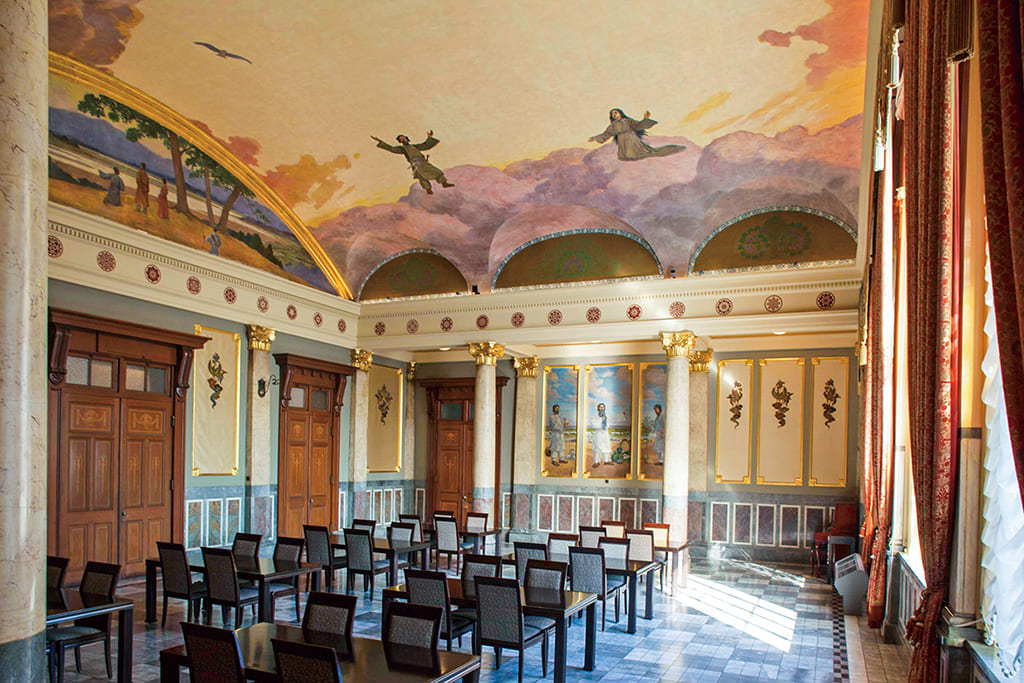 Walking toward the East, you will find yourself in an area with the most modern architecture in Osaka. You will see the Bank of Japan Osaka Branch from the Meiji era with the original facade, and across Midosuji, you can find the Osaka City Hall. Juxtaposed with them are the "Osaka Prefectural Nakanoshima Library" from the Meiji era and the "Osaka City Central Public Hall" from the Taisho era. The library is still operating as a public library after more than a century after its completion, and the Public Hall offers meeting rooms to the citizens. Both places have been managed by private companies and offer cute cafes and shops that attract a new flow of people.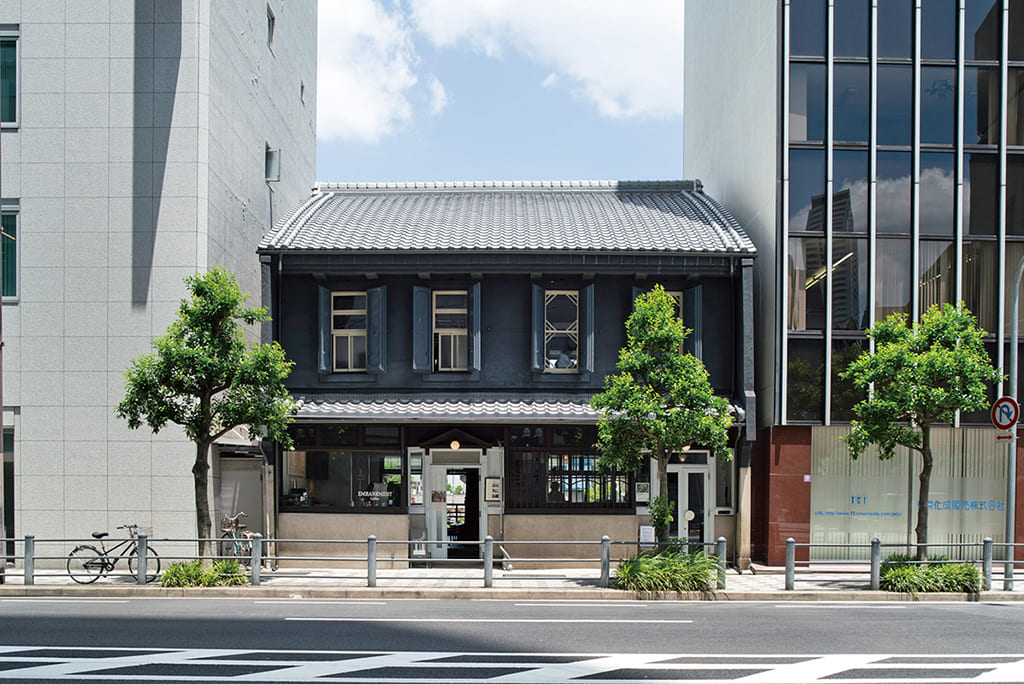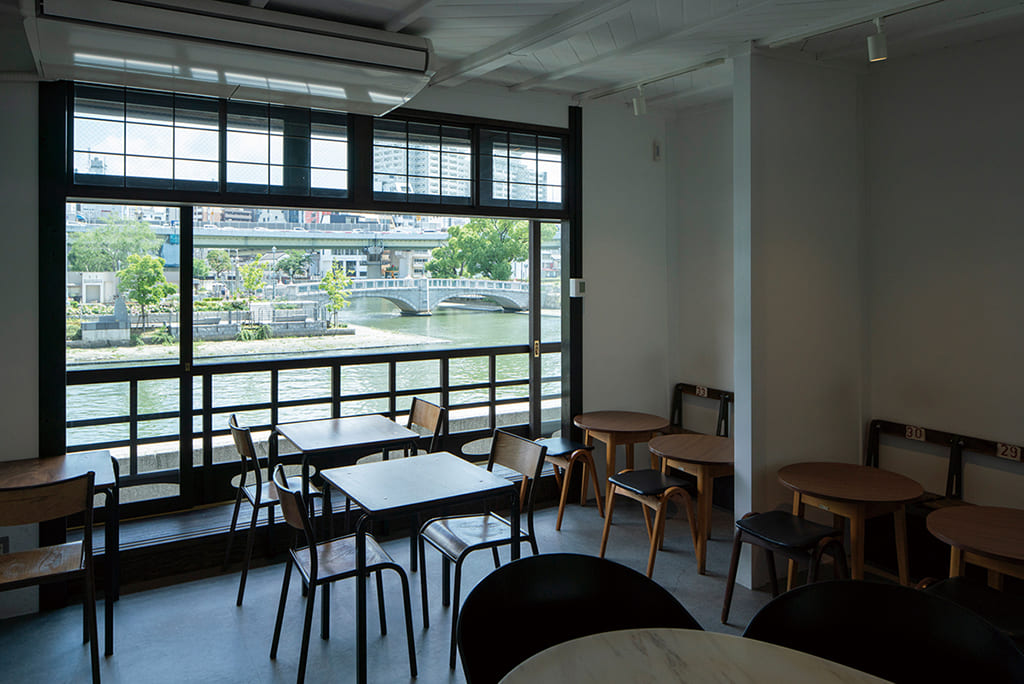 After walking past the "Museum of Oriental Ceramics, Osaka" to Sakaisuji, we will cross the Naniwabashi Bridge towards the South. "Kitahama Nagaya," (row house) built along the Tosabori River in the first year of the Taisho Era, was renovated and opened last year. The wooden building, a survivor of the war in the heart of the city, is characterized by its sophisticated design that blends Japanese and Western styles, and the window-side seats offer a beautiful view of the city of water.
【DATA】
Leach Bar
RIHGA Royal Hotel Osaka 1st Floor
5-3-68, Nakanoshima, Kita-ku, Osaka
Phone: +81(0) 6-6441-0983 (direct)
11:00~24:00 (Last Call: 23:45)
Daibiru Main Building
3-6-32, Nakanoshima, Kita-ku, Osaka
Osaka City Central Public Hall
1-1-27, Nakanoshima, Kita-ku, Osaka
Phone: +81(0) 6-6208-2002
9:30~21:30
Closed: The fourth Tuesdays (Wednesday if Tuesday is a holiday)
Kitahama Nagaya
1-1-22, Kitahama, Chuo-ku, Osaka
※Please check with each store for opening hours.
Osaka Prefectural Nakanoshima Library
1-2-10, Nakanoshima, Kita-ku, Osaka
Phone: +81(0) 6-6203-0474 (representative)
Opening Hours:
Monday-Friday : 9:00~20:00
Saturdays: 9:00~17:00
Closed: Sundays, holidays, and the second Thursdays of March, June, and October.
The Testing Ground for the Future (Tennoji)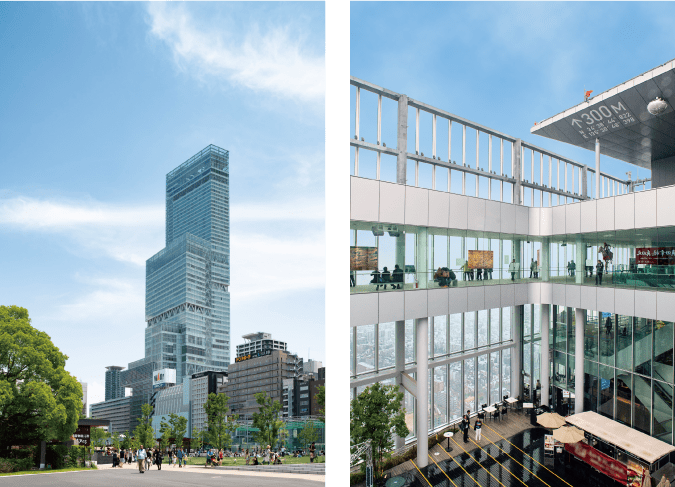 Osaka's main area is often divided into two areas, Kita and Minami, but Tennoji, located at the southern end of the Osaka Loop Line, also has many attractions. Rebuilding Osaka Abenobashi Station, a Kintetsu railway station, "Abeno Harukas," the tallest building in Japan at approximately 300 m, was completed in 2014, and its observation deck attracts many people. The setback of the exterior of the building represents the three-dimensionality of the city of Osaka, including the topography of the Uemachi Plateau, where Harukas is located, and the shifted blocks due to the Osaka Castle.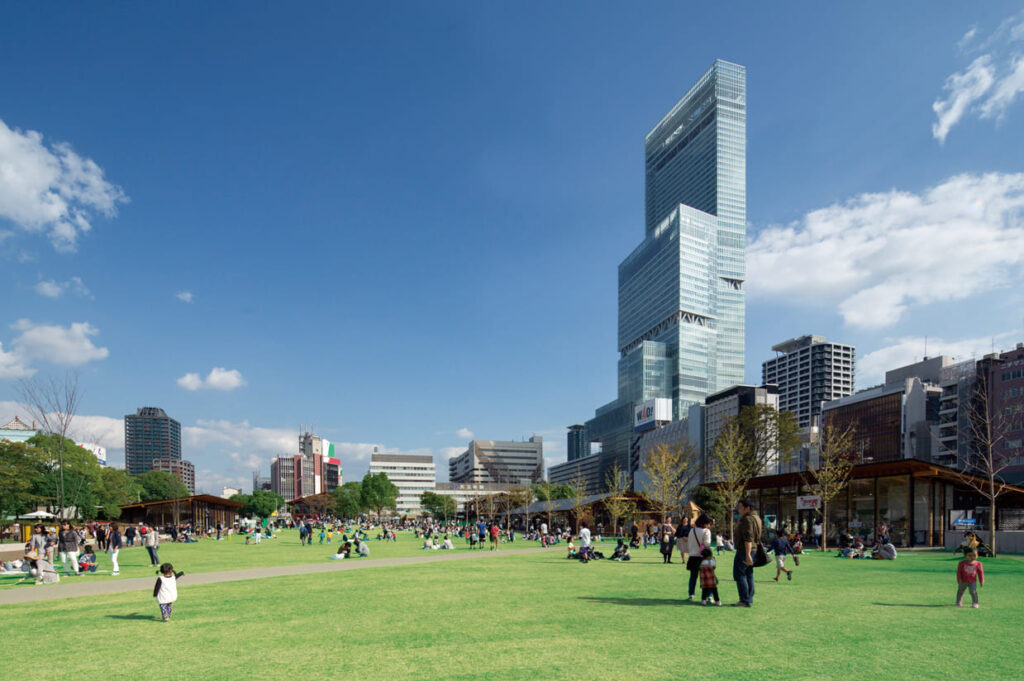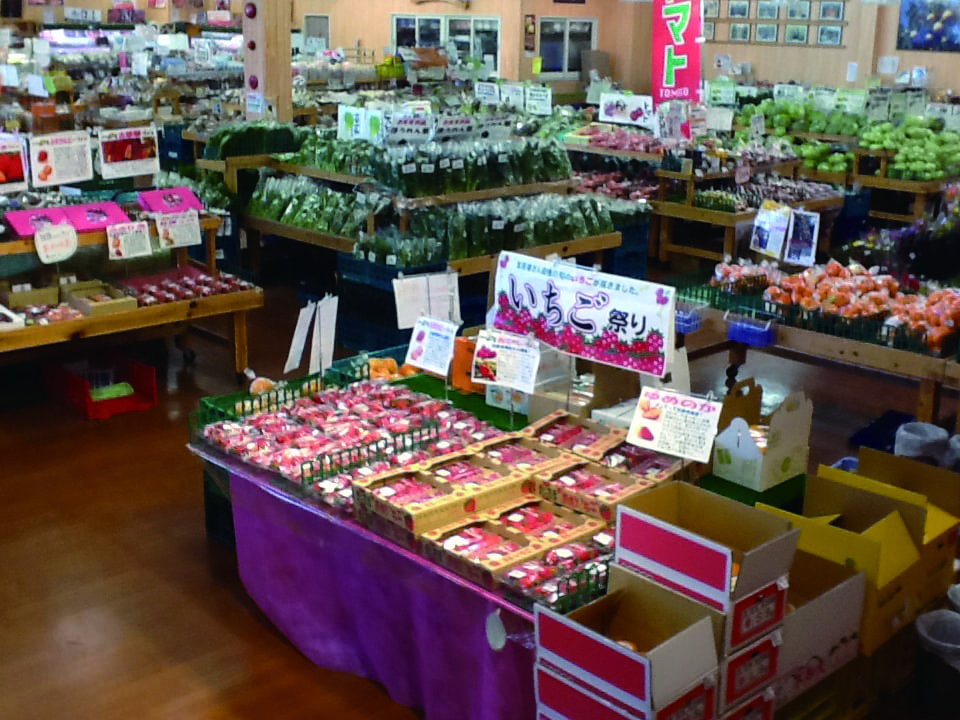 Tennoji Park, at the foot of Abeno Harukas, was reopened as TEN-SHIBA in 2015 and is now partly managed by the private sector. The park is entirely covered with lawn grass, and its progressive efforts to develop cafes, restaurants, and stores on public land have attracted people's attention all over Japan.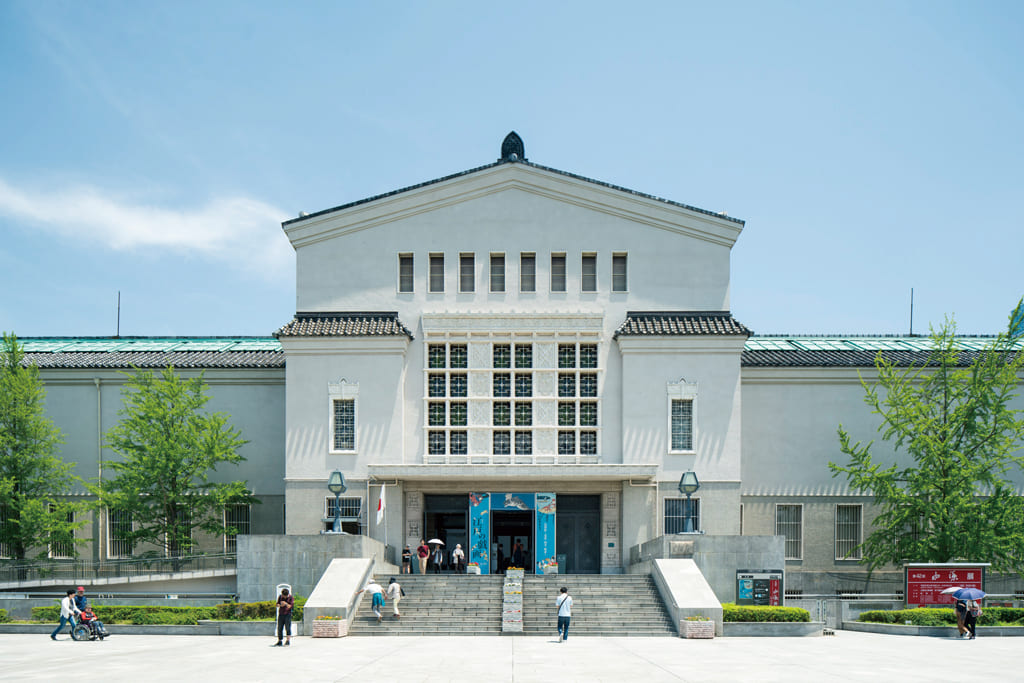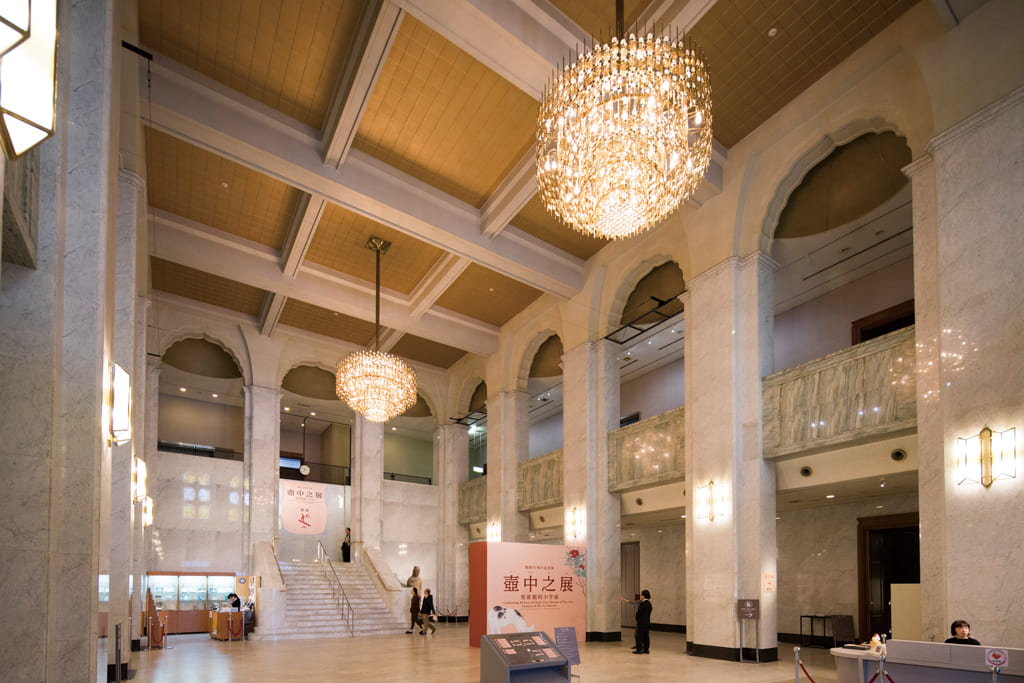 The Osaka City Museum of Fine Arts in Tennoji Park is a symmetrical, modern building that opened in 1936. The building is a blend of Japanese and Western styles with two wings. Although it has been overshadowed by the Nakanoshima Museum of Art, Osaka, it is expected to offer new ways to enjoy museums. With the help of the private sector, it is collaborating with the Sumitomo Family's Keitakuen Garden and the Tennoji Zoo.
【DATA】
Abeno Harukas
1-1-43, Abenosuji, Abeno-ku, Osaka
Phone: +81(0) 6-6621-0300 (Harukas 300 Observation Deck)
9:00~17:30
TEN-SHIB
Chausuyama-cho, Tennoji-ku, Osaka
Phone: +81(0) 6-6773-0860
9:00~17:00 (TEN-SHIBA office)
Osaka City Museum of Fine Arts
1-82, Chausuyama-cho, Tennoji-ku, Osaka
Phone: +81(0) 6-6771-4874
9:30~17:00 (last admission at 16:30)
Closed: Mondays (Tuesday if Monday is a holiday)
Admission:
Adults ¥300
High School and College Students ¥200
Free admission for children aged 15 or younger
What is "Ikefes Osaka"?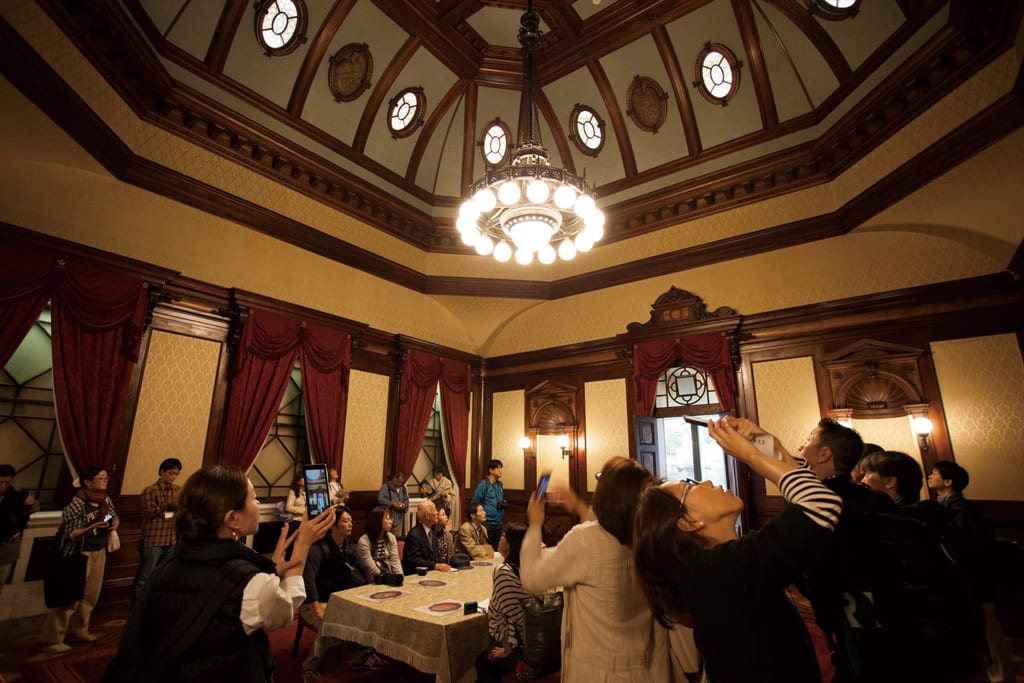 "Ikefes Osaka" is one of Japan's largest architectural events, where more than 100 buildings, mainly in Osaka City, will be open to the public for free, including the buildings introduced in this article. The official guidebook (¥500) will be available at bookstores and Amazon from mid-September.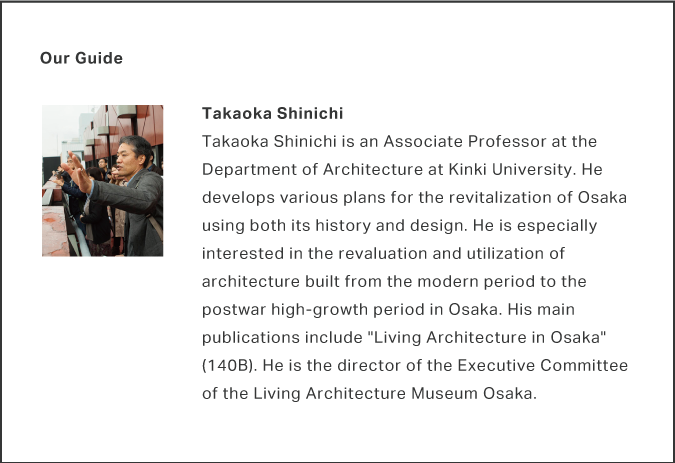 Unless otherwise stated, all prices include tax and service charges. Business Hours may be subject to change without notice. Please check Business Hours before visiting.
This article was originally published in the Fall 2018 issue of The ROYAL.
All products, services, and prices are subject to change.