Spring is Here; Let's Take a Flower Viewing Tour around Osaka
An Excursion from RIHGA Royal Hotel Osaka
 As warm and cold days visit us interchangeably, the buds of cherry blossoms are growing, and the news of their blooming is starting to arrive.
 It would be great to enjoy beautiful flowers and have a relaxing spring day. In fact, there are many great flower-viewing spots around the RIHGA Royal Hotel Osaka.
 In addition to cherry blossoms in Osaka Castle Park, you can see roses in Nakanoshima Park, near the RIHGA Royal Hotel Osaka, and magnificent purple wisterias in Fukushima Ward.
 Let our guide Seki Mayumi, a writer living in Osaka, take us on a spring flower tour.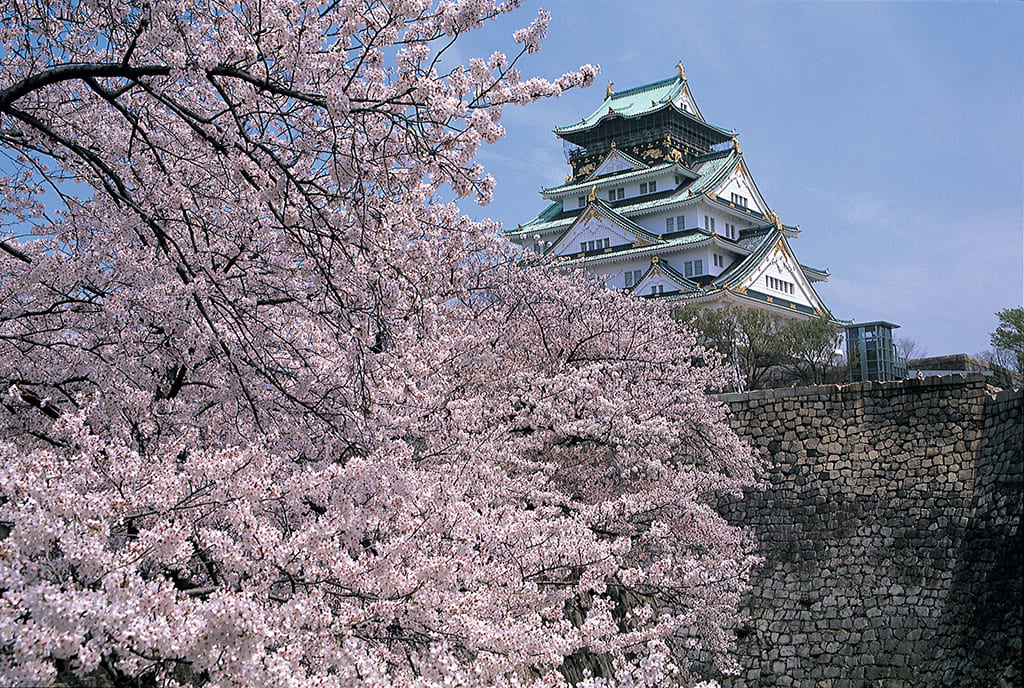 Cherry Blossoms at Osaka Castle Park
 In late March, the skin-stinging cold wind of the winter starts to warm up, and the long-awaited cherry blossom season is getting closer day by day.
 Osaka is home to many famous cherry blossom viewing spots, but the most popular place is Osaka Castle. The Osaka Castle, which attracts many tourists from Japan and abroad, offers a view of approximately 3,000 cherry trees. In Osaka Castle Park, you can enjoy not only flowers but also huge stone walls and numerous important cultural assets in its 105-hectare area.
 One of the best spots in Osaka Castle is the Nishinomaru Garden. There are about 300 cherry trees in this 6.5-hectare garden, mainly Somei-Yoshino (Yoshino Cherry), and the garden is also known to have trees that the Meteorological Agency monitors to announce the blooming of the cherry trees every year. Viewing cherry blossoms with the castle in the background will surely make you feel like you are Toyotomi Hideyoshi.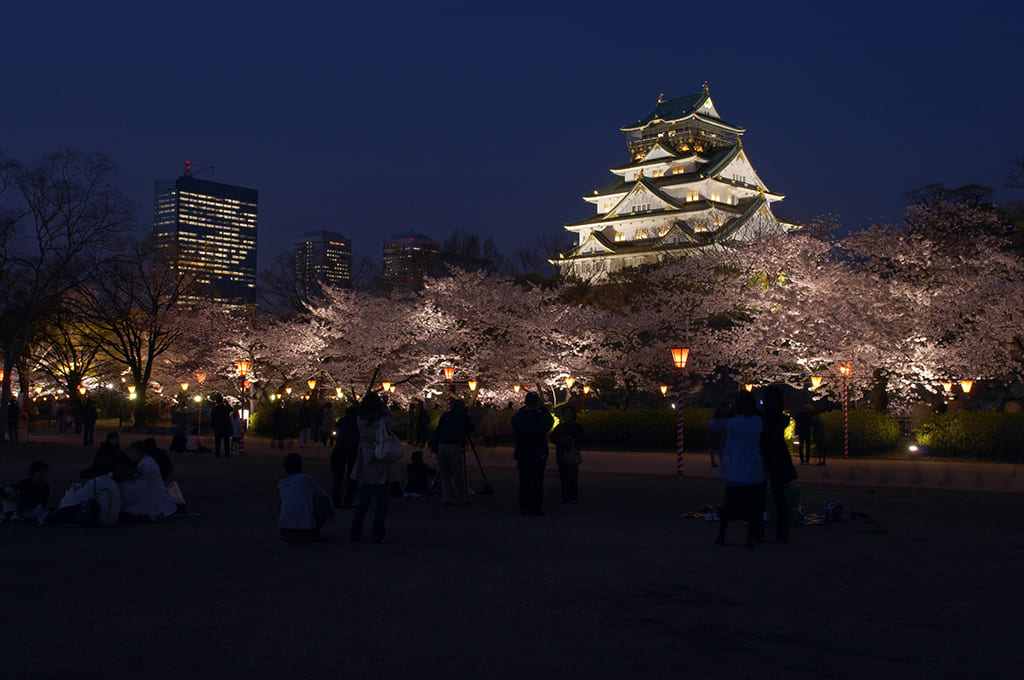 During the cherry blossom season, the Nishinomaru Garden will be illuminated, allowing visitors to view the cherry blossoms at night. The contrast between the lit castle in the night sky and the enchanting cherry blossoms is a sight you can't see anywhere but Osaka.
 In addition to the Nishinomaru Garden, there are many other spots to see cherry blossoms in Osaka Castle Park. Along the south outer moat and east outer moat are overflowed with cherry blossoms, and you will be amazed by the breathtakingly gorgeous reflections of the blossoms on the water.
 This spring, why don't you visit Osaka Castle Park, where you can have the cherry blossom viewing experience unique to Osaka?
Osaka Castle Park
Osakajo, Chuo-ku, Osaka
Contact: Osaka Castle Park Center
Phone: +81(0) 6-6755-4146
9:00~17:30
Closed: December 29 – January 3
Nishinomaru Garden Night Cherry Blossom Viewing
Nishinomaru Garden (late March – early April)
Admission: Adults¥350 (free admission for children aged 18 or younger.)
9:00~21:00 (last admission at 20:30)
Illumination: 18:00~
Open everyday
For more information: Cherry Blossoms/Special Historic Site Osaka Castle
"Nodafuji," One of Three Major Flower Viewing Spots of the Edo Period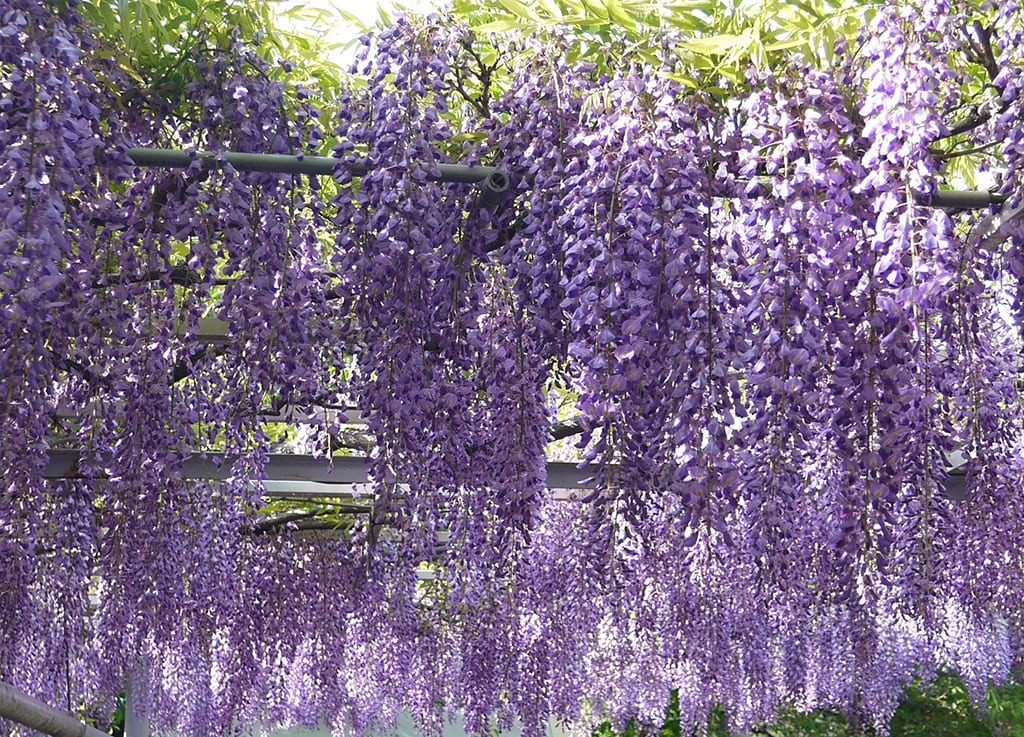 In mid-April, after the petals of cherry blossoms have all fallen, wisterias reach full bloom, and you can feast your eyes on their rich purple clusters of flowers. The Japanese name for these wisterias, which will be used as the design for the new 5,000-yen bill to be issued in 2024, is "Nodafuji." It is named after Noda (Fukushima Ward, Osaka), northwest of RIHGA Royal Hotel Osaka, which has long been known for its beautiful wisterias.
 Ashikaga Yoshiakira, son of Ashikaga Takauji and the second shogun of the Muromachi Shogunate, visited Noda in 1364 on his way to Sumiyoshi Taisha and wrote a Waka poem about "Nodafuji." This Waka poem made "Nodafuji" known nationwide, and it is said that even Toyotomi Hideyoshi visited the area to hold a tea ceremony and enjoyed viewing the wisteria blossoms.
 In the mid-Edo period, merchants and samurais visiting Osaka began bringing home "Nodafuji" as souvenirs, and wisteria viewing spots started to be developed all over the country. "The cherry blossoms of Yoshino (Nara Prefecture), the wisterias of Noda (Osaka Prefecture), and the autumn leaves of Takao (Kyoto Prefecture)" became known as the three most famous flower viewing spots, and many people started to visit Noda during the wisteria season.
 After the Meiji period, as modernization progressed, the "Nodafuji" gradually disappeared and almost completely died out during the war in 1945. However, after that, the locals began a campaign to bring back the "Nodafuji," and it was eventually chosen as the symbol of Fukushima Ward. Now, you can find many famous wisteria viewing spots all over Fukushima Ward.
 Please enjoy spotting "Nodafuji" around Noda, the birthplace of all wisterias in Japan.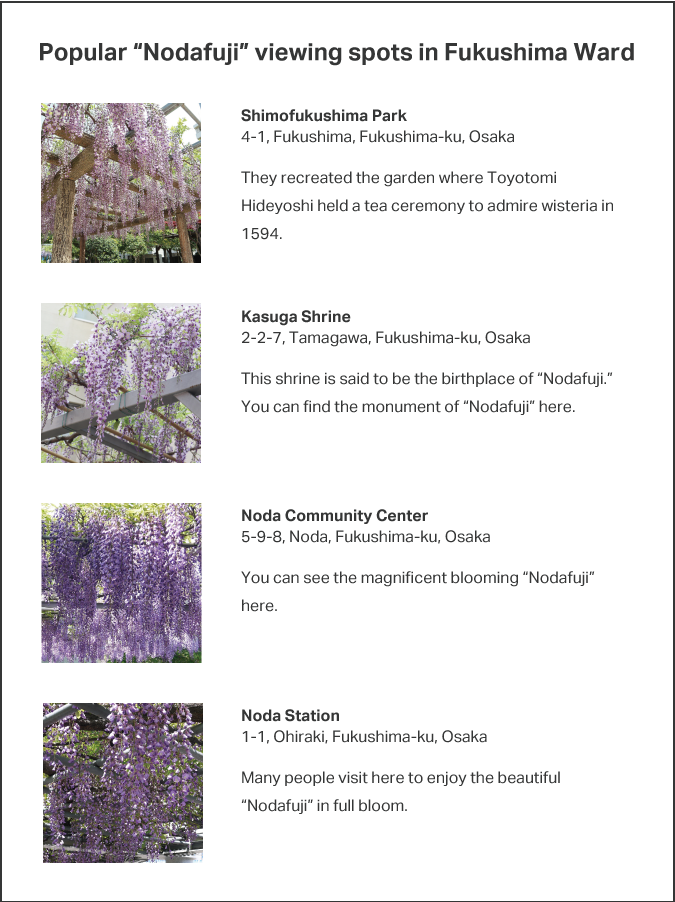 For more information on "Nodafuji," please visit "Nodafuji Corner" on the Fukushima Ward website.
Contact: Fukushima Ward Office Planning and General Affairs Division Planning Promotion Group
Phone: +81(0) 6-6464-9683

"Nakanoshima Rose Garden" with More Than 300 Varieties of Roses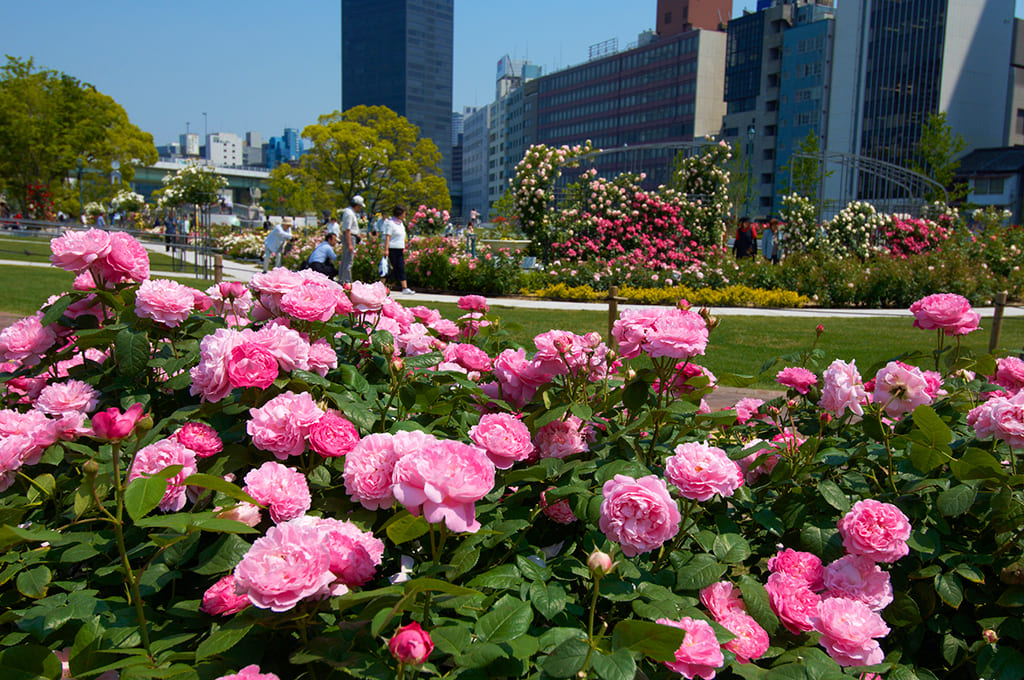 As the wisteria season comes to an end, it is finally time for roses. If you head east along the Tosabori River from the RIHGA Royal Hotel Osaka, you will arrive at the rose garden of Nakanoshima Park, one of the most famous rose gardens in Osaka City.
 Located between the Dojima River and the Tosabori River, Nakanoshima Park was the first park established in Osaka City in 1891. Nakanoshima Park, which is approximately 1.5 km long and 10.6 hectares, is known as an urban oasis. It is one of Osaka's popular sightseeing spots, along with the Osaka Central Public Hall and the Osaka Prefectural Nakanoshima Library, both registered as Important Cultural Property, and the Museum of Oriental Ceramics, Osaka, storing some world-famous artworks. (closed until fall 2023)
 The roses in the garden on the park's east side reach their peak from early to mid-May. The sight of 3,700 roses of about 310 varieties in full bloom is just breathtaking.
 The flower beds in the garden's center are arranged like patchwork and planted with different breeds of roses in chronological order of their years of creation from 1867. Visitors can learn the history of roses and see how they have changed over time.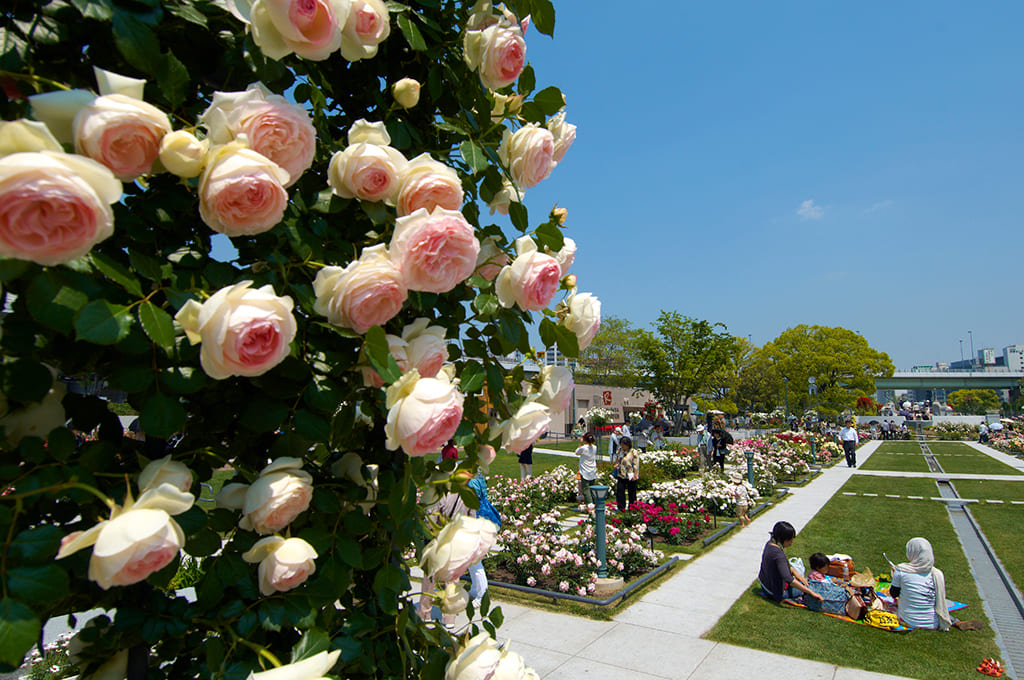 Among the many roses in the garden, the most eye-catching is the beautifully arranged vine roses. The stems of freshly bloomed roses in spring are soft, and the flowers bloom slightly downwards, making them look very gentle. One of the famous vine roses is the Pierre de Ronsard. Its flowers are cup-shaped with multiple layers of petals, each with a pink center, and it captivates our minds with its lovely and graceful appearance.
 Don't miss the German white rose, Schneewittchen (Iceberg), crimson Uncle Walter, and yellow Graham Thomas as well.
 When admiring roses, you will, of course, be mesmerized by their color and shape, but another thing you should pay attention to is their fragrance.
 The Nakanoshima Rose Garden is home to many roses with a variety of fragrances. This spring, please enjoy not only the color and appearance of the flowers but also the fragrance of the roses.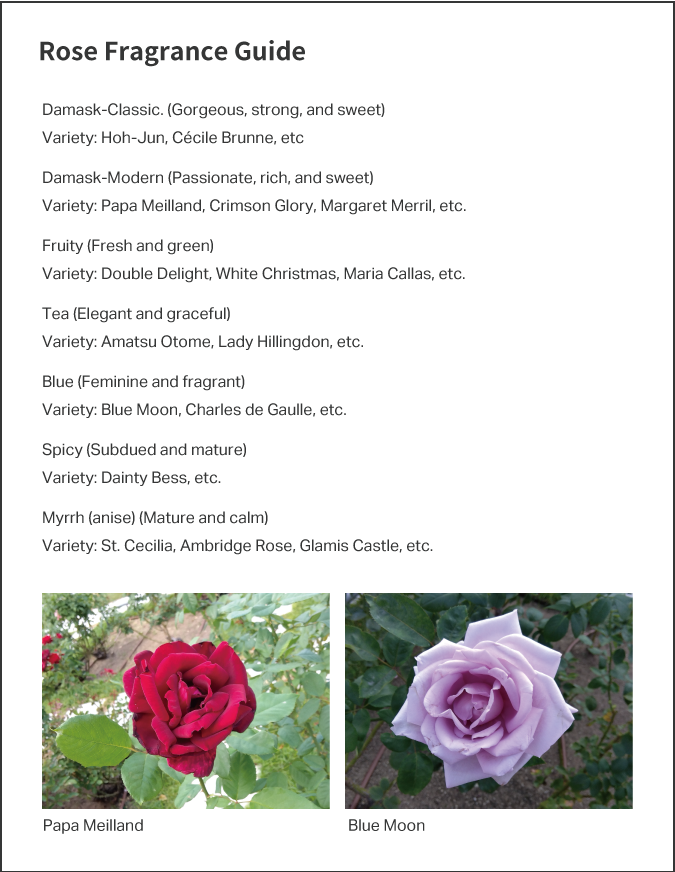 Nakanoshima Rose Garden
1-1, Nakanoshima, Kita-ku, Osaka
Free admission
Contact: Ogimachi Park Office
Phone: +81(0) 6-6312-8121
"Shun Surugaya," a Japanese Confectionery Shop with Long History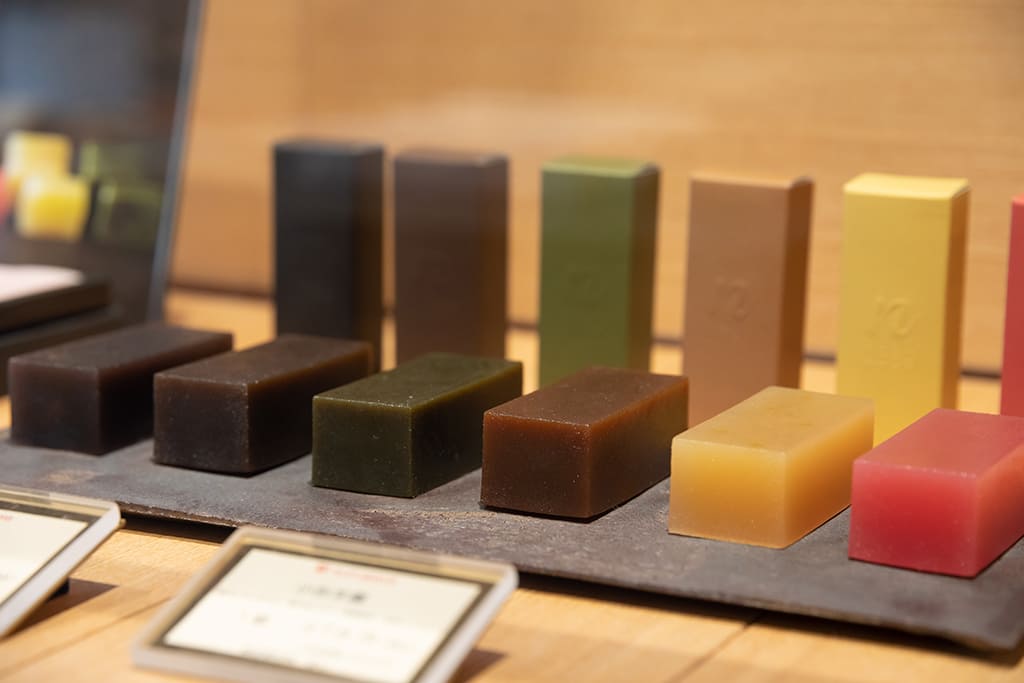 Walking 3 minutes from Osaka Tenmangu Station of the JR Tozai Line, you will find a new location of Osaka Honke Surugaya, "Shun Surugaya" Minamimorimachi main store opened in October 2021.
 Surugaya has a long history. Okamoto Zen'emon founded the company in Fushimi, Kyoto, in 1461, and in 1589, Zen'emon IV created Japan's first "Neri Yokan" (sweet bean jelly) and presented it to Toyotomi Hideyoshi. At the tea ceremony held in Jurakudai by Toyotomi Hideyoshi, this "Neri Yokan" was served to the guests. Loved by all the feudal lord guests, Surugaya became known as the originator of the "Neri Yokan."
 Osaka Honke Surugaya, opened in Osaka in 1837, is now over 180 years old.
Evolved Form of Yokan by Surugaya
 "MINI YOKAN," a new, evolved form of Yokan, is a stick-shaped, ready-to-eat snack. The "brown sugar coffee" flavor is made with brown sugar from Hateruma, Okinawa, and coffee from the Brooklyn Roasting Company of New York. The "Setoda lemon" flavor uses snow salt from Miyakojima, Okinawa, and lemon from Setoda, Hiroshima. The "matcha pistachio" flavor is made with high-grade matcha green tea from a tea shop in Kyoto, pistachio paste from Sicily, Italy, and raspberries from France. You can enjoy the exquisite combinations of flavors that only a company with a long history and knowledge of Yokan can create.
 Surugaya's Yokan, which uses coarse sugar, is characterized by its light flavor and crisp texture. The subtle sweetness of the Yokan goes well with not only tea but also coffee, tea, wine, sake, brandy, etc.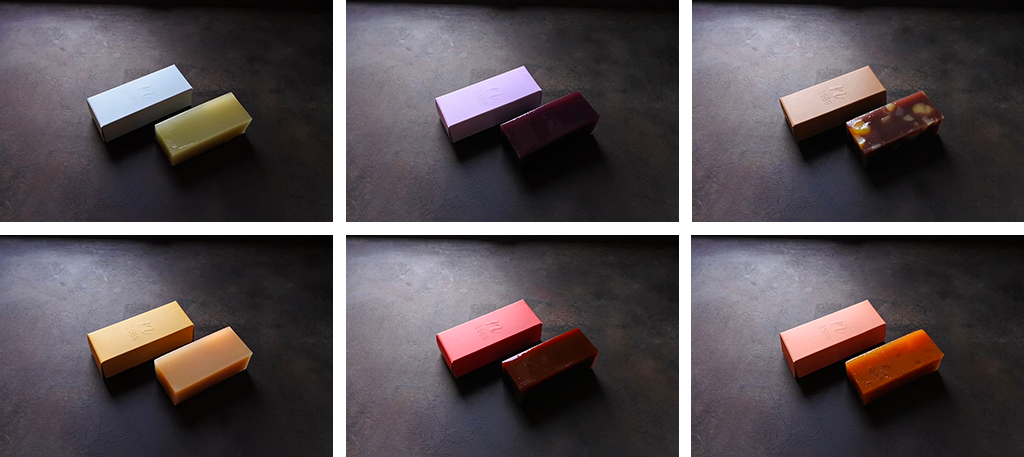 Since the end of 2022, some new "MINI YOKAN" flavors have been added. The new six soft-colored snacks include ramune, purple potato butter, chestnut, honey ginger, strawberry black tea, and apple cinnamon. It's difficult to choose just one. The new, innovative, luxurious "YOKAN" should also be a delightful gift. The MINI YOKAN is priced at ¥378 per piece.
Sakura Sweets for Spring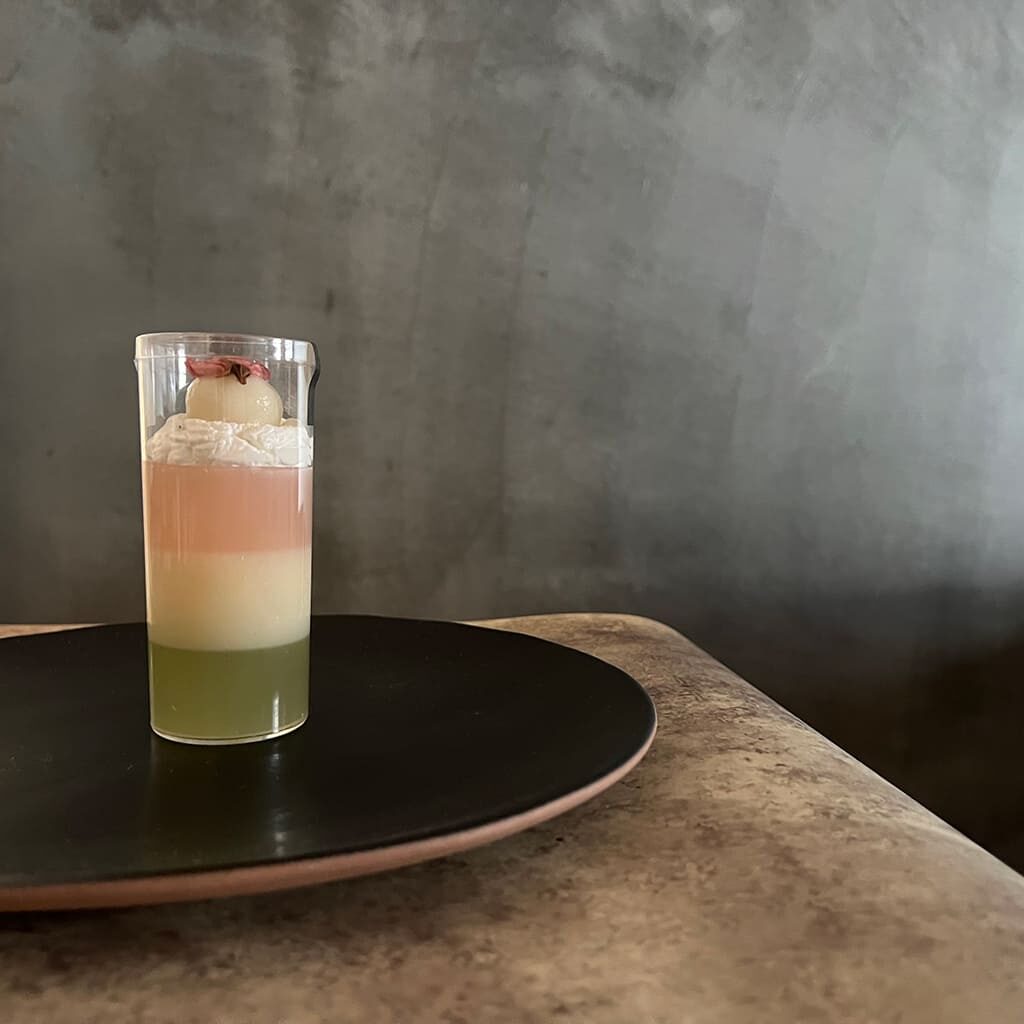 "SHIZUKA – Sakura" is only available during the cherry blossom season. This Kuzu dessert comes in three different flavors; sakura flavor on the top, soy milk in the middle, and cherry leaf flavor on the bottom. The unique texture of the Kuzu and the aroma of cherry blossoms remind us that spring has finally arrived.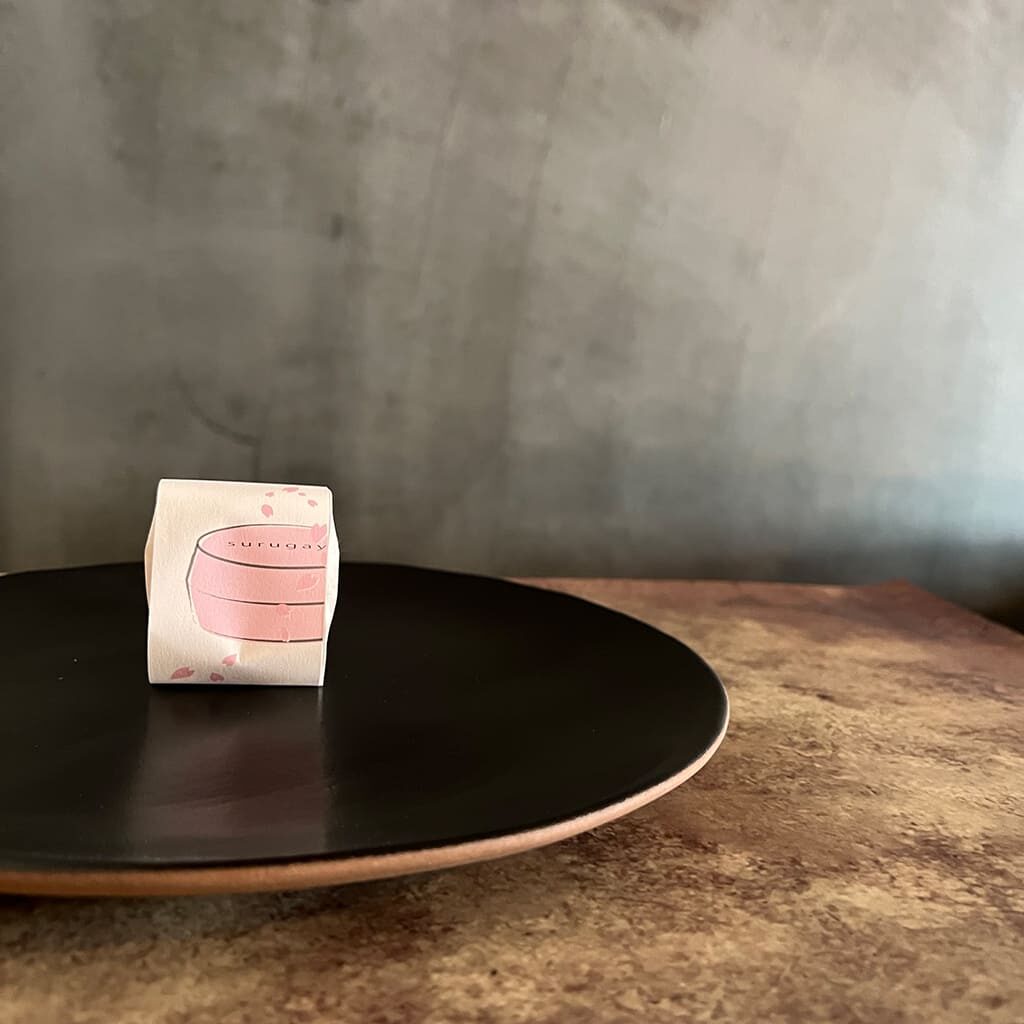 "Sakura Monaka" is also only available during this season. The crispy Monaka (Japanese wafer) is made of the finest Japanese glutinous rice and goes perfectly with the "Sakura-an" (white bean paste with sakura leaves). The small Monaka is branded with the Surugaya brand logo.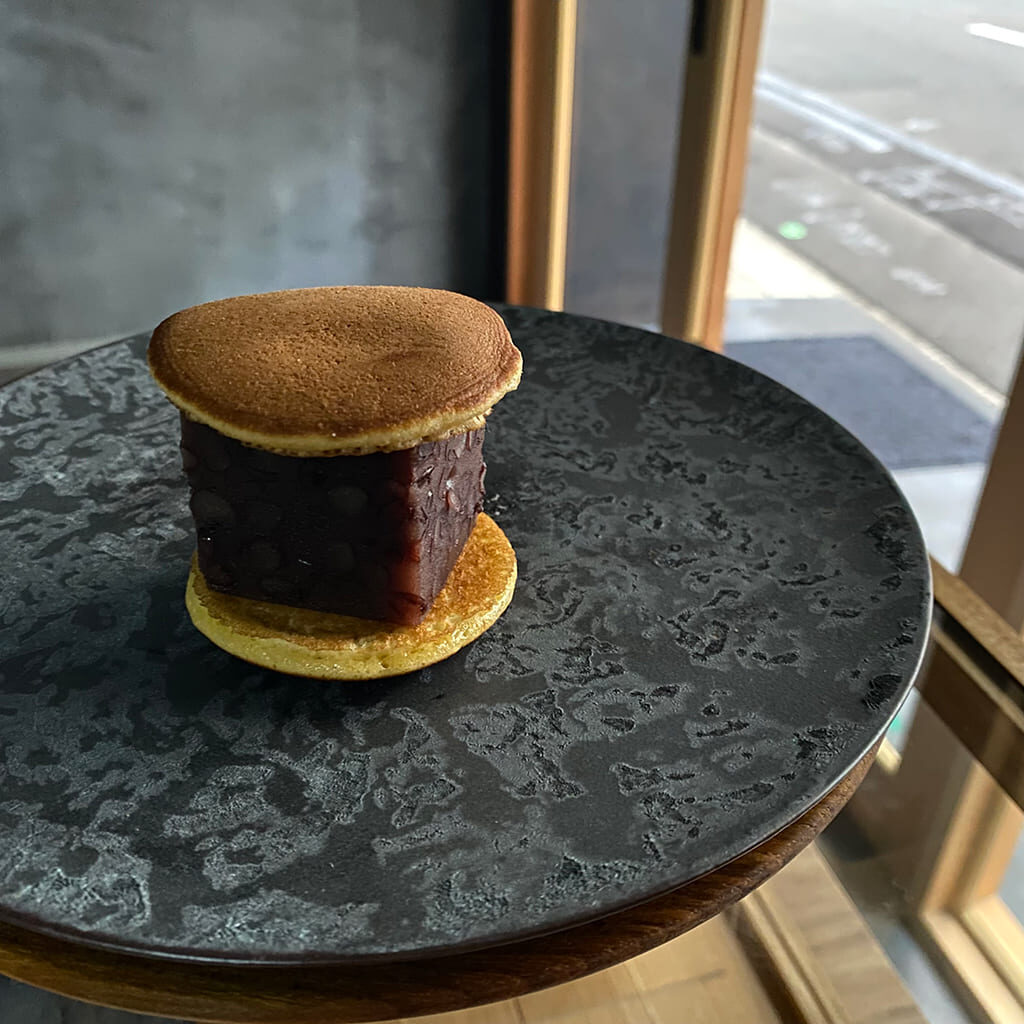 This is "Yokan Dorayaki." Red bean paste made with Hokkaido Dainagon azuki beans is generously sandwiched between the Dorayaki pancake. In order to maximize the flavor of the bean paste, the sugar content is kept at 50 % for a light sweetness. It's very popular for its impressive appearance. The "Yokan Dorayaki" is available for ¥400 per piece (only at the physical store).
 Osaka Honke Surugaya's new brand, "Shun Surugaya," was created to keep the tradition while creating new flavors that customers can enjoy for the next 100 years.
Try the new flavors created by Osaka's leading Japanese confectionery store.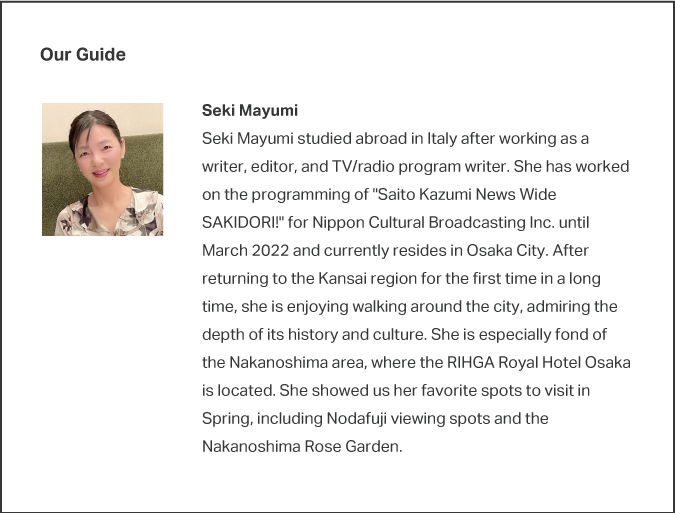 Unless otherwise stated, all prices include tax and service charges.
Business Hours may be subject to change without notice. Please check Business Hours before visiting.